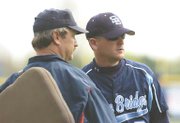 The Stone Bridge High baseball team's success throughout this decade is likely to continue this spring. The Bulldogs, under eighth year head coach Sam Plank, have numerous players back from last year's Liberty District runner-up team that finished 17-8 overall.
Winning just seems to be the norm for Stone Bridge baseball, a program that won three straight district titles from 2003 through 2005 when it was a member of the Dulles District in Loudoun County. The Bulldogs went 42-5 over that three year period.
In 2006, Stone Bridge moved into the Northern Region and, at the 16-team postseason region tournament, went all the way to the semifinals before losing to Lake Braddock.
And last year, the Bulldogs reached the Liberty District tournament title game before falling to Madison. After a first round region playoff win in its following, Stone Bridge saw its season end with a region quarterfinals loss to South County.
Look for this year's Bulldogs to, once again, vie for a district title and to make a strong run at the region.
Stone Bridge has its top four pitchers back, led by returning staff ace Ty Weaver. The right hander won seven games in 2007.
"He's consistently in the mid 80s, has a nasty slider and good changeup," said Plank, of Weaver.
Senior Tyler Basso (6-1 last year) and junior Nick Fialdini, both right handers, will join Weaver in the starting rotation. The team's closer will be Mike Palmer, a sidewinder right hander.
STONE BRIDGE'S top returning position player is fourth year starter Mike Stancik, the team's clean-up hitting shortstop who batted .380 last year and earned First Team All-District recognition.
"He's one of the best shortstops in the Northern Region," said Plank. "He had very few errors last year and makes the spectacular play."
Other key returning players include sophomore left fielder John Bladel, who hit .412 and made First Team All-District as a freshman, and senior catcher Brian Wheaton.
"He's got a cannon and throws the ball well," said Plank, of his catcher. "And he's a good hitter."
Plank is anticipating a tough battle for the district crown this season.
"We're probably in one of the best districts in the state of Virginia with [teams like] Madison and Langley," said Plank. "I hope we're ready. There are a lot of big time baseball players in Fairfax County."
Stone Bridge's strength will likely be its pitching, defense and overall team speed. Plank said his team should also hit well and run the bases with smarts as well.
"I'm excited," said the coach. "We have a great group of kids and they worked real hard in the offseason."
Stone Bridge will open up the season next Saturday at the Alexandria Tournament. The Bulldogs will play a Saturday double-header, beginning with a 2 p.m. game against Bishop O'Connell of Arlington. That will be followed with a 4:30 p.m. game against Lee High of Springfield. Both games will take place at West Potomac High School, which is hosting the tournament.