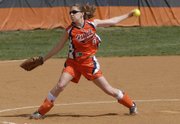 <b>Coach</b>: Ron Giovannucci, 11th year (129-93)
<b>2007 Record</b>: 11-11, 7-7 Patriot District
<b>Season Ended</b>: Lost 3-0 to Centreville in the first round of the region tournament.
<b>Key Losses</b>: IF/OF Ashley James SR
<b>Key Players</b>: 1B Sarah Marino SR, C Kelsey Talbot SR, P Jennifer Windau JR
<b>Quotable</b>: "We should finish in the top four [in the Patriot District]. We have a chance to finish in first, but South County is always tough. I think we've moved up a couple of notches. I think we can finish in the top three." — Ron Giovannucci, Hayfield head coach
<b>Outlook</b>: Last season, the Hayfield softball team had to rally just to earn a spot in the Northern Region tournament. In ousting fourth-seeded Lee in the opening round of the Patriot District, the Hawks amassed some tournament experience in consecutive losses to South County and Centreville.
This year, the route to the region tournament should be far easier nearly the entire team returns for 11th year head coach Ron Giovannucci. Though the Hawks had five seniors last year, none played a major role. Instead, first baseman Sarah Marino, catcher Kelsey Talbot and pitching ace Jennifer Windau served as the team leaders. Marino and Talbot were the team's lone representatives on the first-team all district squad and Windau was a second-team all district selection as a sophomore,
To illustrate Marino's importance, Giovannucci crowned then-juniors Marino and Talbot as team captains.
Marino is a four-year starter who slugged a .438 batting average last season. The left-hander leadoff hitter also had 20 stolen bases, while Talbot hit .347 and is also a four-year starter.
Leadership aside, the Hawks' hopes for Giovannucci's second district title in the past 11 seasons may rest with Windau. Switching between a fastball, riseball and an occasional changeup, Windau finished with a 138 strikeouts and a 2.36 earned run average.
"I think she's one of the top pitchers in the region," Giovannucci said. "She's got really good ball placement with a nice drop."
Hayfield did need to fill the inside infield slots and will rely on redheaded freshmen twins Samantha and Megan Perry-Shifflett. Both were trainers last season, but will start immediately. Samantha Perry-Shifflett will take second base, while Megan Perry-Shifflett will man the shortstop slot.
"They both hit the ball a mile," Giovannucci said.
In addition to Marino and Talbot, Hayfield has three other seniors, which includes all-district honorable mention Kelly Press. Windau and all-district honorable mention Allyson Lohr pace the junior class, while sophomore Laura Kirik and freshman Bria Woodyard are newcomers.
"Our biggest key is that we need some offense from the lower end of the batting order," Giovannucci said.