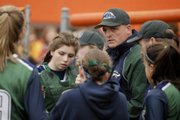 <b>Coach: </b>Al Thompson, third season
<b>2007 Record: </b>20-4
<b>Key Losses:</b> C Lauren Rowley
<b>Key Players:</b> P Chelsey Duhnam, SO; P Paulina Gregorowicz, SR.
<b>Quotable:</b> "To me, how we play every day is more important than how we end up in the standings." – South County head coach Al Thompson.
<b>Outlook:</b> After winning the Patriot District softball title in only the school's second year of existence, surely the South County Stallions aren't feeling the pressure to make it two titles in three years.
"Not from anybody except for every parent," said South County head coach Al Thompson with a laugh.
The Stallion parents may be on to something, however, as South County returns all but two players from last year's championship team, including Patriot District pitchers-of-the-year Chelsey Dunham and Paulina Gregorowicz.
Even their coach admits that the Stallions have looked pretty good during the preseason. According to Thompson, his Stallions are playing at the same level that they were during the playoffs last season.
"Most of the girls are so competitive, they are spending a lot of the time in the offseason playing softball," he said. "When we hit the field this year, [we looked] as good as we looked at the end of last year."
Team chemistry has also shown a noticeable improvement early on.
"We are a better group of players and a better group of friends than we were last year," said Thompson. "Our goal is to play well, look well and while you can't always have a good time, look professional. That is what this team is – professional. I really like that in my kids."
Thompson isn't, however, making more room for another district trophy just yet.
'Everybody expects us to win again this year because nothing changed. You know what, something did change. Every other team changed," he said. "Things change. Every year things change."