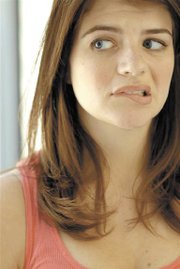 On the flight that carried her to her audition for "Saturday Night Live," Casey Wilson did some reading. Specifically, she re-read television critic Tom Shales's lengthy history about the late night comedy institution; a book that chronicles the show's journey from Belushi to Murphy to Carvey to Sandler to today's "not ready for primetime" players.
But there was also Radner and Shannon and Poehler and Fey. There was a legacy of female performers that have created memorable characters late into Sunday morning on the East Coast every season.
And Casey Wilson was about to become one of them.
Wilson, an Alexandria native, made her debut as a cast member on "Saturday Night Live" last weekend, appearing in several sketches on an episode hosted by Tina Fey and featuring singer Carrie Underwood. Technically, Wilson is a featured player on the show; her name appears after the central cast in the opening credits. "It's sort of the JV," she said, nursing a cold on Tuesday morning.
But the important point is that Wilson, 27, was in the credits and figures to play a growing role on the show. The young writer and actress who performed on plywood and cinderblock stages in her Alexandria backyard when she was nine years old finally heard legendary announcer Don Pardo say her name to the millions watching at home.
"It was all that I imagined and more," she said. "I cried. I just cried."
WILSON JOINED "SNL" last week, meeting the cast and feeling immediately welcomed — if a little overwhelmed. "I was definitely star-struck to work with Kristen [Wiig]. They were so fun, so nice, but I was definitely nervous."
Wiig and 'SNL' comedian Amy Poehler, whom Wilson had known previously, are two of her comedy idols. "Kristen and Amy are comedy beasts. They're amazing. They can do anything, and they set the bar so high. So it was awesome to have Tina host the show because she reigns supreme in terms of female comedy."
Fey was the show's head writer before leaving to create her own NBC sitcom "30 Rock," which satirizes a late-night sketch comedy show. Wilson's preconceptions about the "SNL" writing process were soon shattered once she joined the cast. She was worried initially that she was going to have to write alone, having left her comedy partner June Raphael — with whom she wrote scripts and performed the stage show "Rode Hard and Put Away Wet" — for her new adventure in New York. Raphael herself had moved on to co-star in a new Jack Black film.
"["SNL" is] so collaborative, much more than I thought it would be. I knew the performers wrote, but I didn't know they write as much as they do," she said. "Everyone pitches to the host, and you go off on all of Monday and all of Tuesday and Tuesday overnight, and writers and actors pair up. There's no exact science."
There was a dress rehearsal at 8 p.m. on Saturday, a kind of "show before the show" that allows sketches to play out in front of a live audience. That settles some butterflies before the live broadcast later in that night — but not necessarily for Wilson. "Mine weren't. I was trying to focus on doing the show for this audience, as if these 200 people were the only one seeing it."
THE FIRST appearance for Wilson on "SNL" — apart from her smiling at the camera as Pardo exclaiming "featuring Casey Wilson" — was in a commercial spoofing menstruation pills that limited a women's period to once a year. This concentration of hormones led to screaming, violence or, in Wilson's case, grabbing and eating an entire child's birthday cake.
Next she hilariously spoofed one of the contestants on VH1's "Rock of Love" reality dating show, giving a tearful plea before planting a saturating, absurd kiss on Brett Michaels (cast-member Jason Sudeikis, who was born in Fairfax). This was the sketch in which she felt like she was in her comfort zone. "I'm obsessed with that show, and I was happy to see it finally honored."
After appearing on a game show parody sketch, she was on the sidelines through a musical performance by Carrie Underwood and a memorable "Weekend Update" featuring former Gov. Mike Huckabee.
"Everyone loved him. Probably because people were thinking, 'Well, now that he won't be president, we can love him as a comedian.' We don't have to be scared he's going to win," she said.
But then she unleashed her first celebrity impression — a hallmark for "SNL" performers through the years — in a parody of "The Apprentice" as a loud, cackling Rachael Ray of the Food Network.
"I think they wanted to give me a chance to do an impression, and the guys who wrote that sketch were very generous," said Wilson, who had to learn the Ray impression in the week leading up to the show.
She appeared in a sketch parodying "There Will Be Blood" and its unexpected "I drink your milkshake" catchphrase. She capped the evening appearing in a sketch goofing on "Lipstick Jungle"-style television shows called "Lady Business."
The process has started again for Casey Wilson in preparation for this weekend's show, featuring actress Ellen Page. "This week I'm going to pitch a reoccurring character," said Wilson. "Brazenly, I might add."
THE REVIEWS were positive for Wilson's debut on several blogs and "SNL" fan sites.
"Was my dad bragging?" she said with a laugh, admitting she hasn't read her own reviews yet but acknowledging her father's enthusiasm. "At one point, when I got the show, I pictured him calling everyone in Alexandria and saying, 'SNL' and then hanging up."
Her friends from her hometown have also reached out to her with congratulations. "I have so many people from Alexandria e-mailing me. And they're all like, 'Do you remember me?' and I'm like, 'I haven't lost my memory!" she said, adding that she's been trading e-mails with John Porter, her former principal at T.C. Williams.
Wilson's father Paul, her 23-year-old brother, some of Wilson's friends and some friends of her late mother Kathy came to support her in her debut.
Her mother died of a heart attack in her sleep on Sept. 1, 2005, at age 54. In a 2006 interview about Wilson for the Gazette Packet, her father said performing came natural to Casey Wilson and that she had her parents' support.
"There's little magic moments when you introduce your child to something, and you see the seed start to grow. I don't think we were obnoxious stage parents. We just wanted to facilitate a dream."
A dream that is now being fulfilled, live from New York every Saturday night.