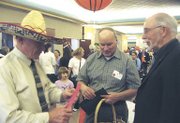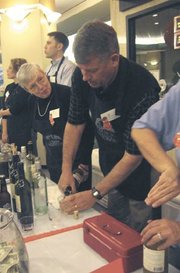 The Council for the Arts of Herndon is gearing up for one of its two major fund-raisers it holds each year. Food, drinks, auctions and activities for community members will all take place in one spot, the Worldgate Center on Thursday, March 27, from 5:30 to 9 p.m.
"There are very few fund-raisers appropriate for all ages," said Grace Wolf, president of the Herndon Council for the Arts. "We are excited to have the support of the community," she said. "Anyone who wants to support local arts and local restaurants while they eat, drink and have fun should come out."
Twenty-two local restaurants have confirmed they will participate in this year's Taste of the Town. Restaurants specializing in a variety of foods will have stands at the Worldgate Center. "It's a great way of previewing local restaurants in one spot," said Wolf.
The event will also feature a silent and a live auction. The silent and live auctions will include items such as gift certificates, art from locally renowned artists, two tickets for the Macy's Day Parade in New York City and a week-long timeshare in Spain. Wolf said all of the auction items are donated by local people and businesses, and longtime patrons of the Council for the Arts.
The tickets are $20 for the general public and $15 for members of the Council for the Arts of Herndon. Children under 12 are admitted for free. An area will be set up for them that will feature the video game Dance Dance Revolution and the Nintendo Wii. The theme of this year's Taste of the Town is "Hi-tech Herndon."
More than 500 people attended last year's event, raising more than $20,000 for the Council for the Arts of Herndon. The funds raised at the Taste of the Town go toward supporting the Council's scholarship programs and annual arts contests. For more information, visit the Council for the Arts of Herndon Web site at www.herndonarts.org.