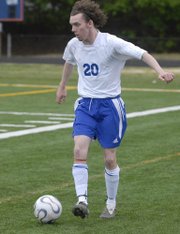 <b>Coach</b>: Marvin Sim, first year
<b>2007 Record</b>: (3-8-2, 1-6 Patriot District)
<b>Season Ended</b>: Lost in the first round of the district tournament.
<b>Key Losses</b>: MF Guery Munoz, D Sean Camperson
<b>Key Players</b>: MF Ivan Peralta SR, MF Jason McNamara SR, MF Colin Mahoney SR
<b>Quotable</b>: "I feel like we can finish easily in the top four. Lake Braddock and West Springfield are the teams that year-in and year-out will dominate the Patriot District, but I honestly feel we can hang with those boys." — Marvin Sim, Lee boys soccer coach
<b>Outlook</b>: When Marvin Sim was brought on to replace Arni Sepehri, who is currently the girls soccer coach at Marshall, he didn't realize how much needed to be done. Hired in mid-January to resurrect the last-place Lancers, Sim had to figure out how start from scratch.
The former Hayfield assistant scrounged up some cash, hit the fund-raising trail and bought uniforms. Maybe he figured, it would be a welcome change.
That's what Sim hopes can happen for Lee, which only graduated two seniors from last season's disastrous district record. The Lancers, not known for their soccer tradition, only won three games and wilted to the final slot in the top-heavy Patriot District. In the postseason, they were ousted in the first round of the district tournament.
But this season, Sim, who graduated from Annandale, brings in a 3-5-2 alignment, which he hopes can blend with a slew of experience on the defensive end. All-district goalkeeper Matt Lindberg returns, as does a crop of defenders-turned-midfielders.
Sim is confident in the senior trio of Ivan Peralta, Jason McNamara and Colin Mahoney roaming the midfield, especially given their experience.
"These guys have been playing with each other for four years now, so we should have good team chemistry this year," Sim said. "We have some very talented players and now, it's just up to them to put it all together."
Lee is also banking on some fresh faces to provide much-needed depth and scoring.
Senior Eugene Kheuangmala, a defensive-minded midfielder, and sophomore attacking midfielder Mulu Asihel weren't even part of the Lancers program last season, but are currently penciled in as starters.
Despite a 2-0 season opening loss to defending AAA state champions Thomas Jefferson, Sim has been encouraged in the early going. The Lancers had both of their scrimmages cancelled, but still held the Colonials tough despite relinquishing an early goal.
The loss did, however, typify Lee's Achilles heel, which may be netting goals. Sim is having to depend on sophomore Luis Soto, junior forward Andreas Zaloumis and Asihel to be the leading point-getters.
"Scoring is where we need to start picking it up," Sim said. "We need a finisher."