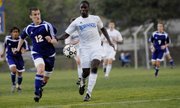 <b>Coach: </b> Jac Cicala, first season
<b>Key Losses: </b> M Nick Kapus
<b>Key Players: </b> GK Brad Morgan, SR; D Seth Goldman, SR; F Eli Hajjar, SR
<b>Outlook:</b> Former Centreville head coach Jac Cicala takes over a Robinson program that is primed for a run at the region title. Cicala, who takes over for 2006 Concorde District Coach of the Year Ryan Cox, coached the Wildcats from 2004-07. Cicala was previously the George Mason University head women's soccer coach for 12 years, leading the Patriots to 139-93-22 record during that time and was named National Coach of the Year in 1993.
Cicala's Wildcats upset the Rams in the Concorde District tournament last year, 1-0, en route to a trip to the Concorde District final.
The Rams lose 2007 Northern Region Player of the Year Nick Kapus (American University), who scored 12 goals with five assists last year, but return senior goalkeeper Brad Morgan, senior defender Seth Goldman and senior forward Eli Hajjar.