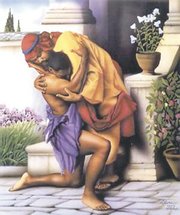 Inside the former home of Agape Christian Academy on 5632 Mt. Vernon Memorial Highway in Alexandria is a chic ballroom, dressed regally with curtains and chandeliers. Seating between 300-400 people, it's an ideal venue for a large party or social gathering; but it was Chris McGriff's job to figure out how it could also host a theatrical musical.
"Theater's an interesting business," he said. "Things might look elegant from the surface, but once you look behind the curtain you see all the mechanics and the things like that. It's our job as theater technicians to keep that from the audience's view."
As artistic director for New Horizons Theater, McGriff keeps this theatrical machinery out of sight. His productions, on the other hand, are intended to open his audience's eyes.
New Horizons is a faith-based dinner theater company that presents some pieces with a Biblical foundation and other pieces that are based on Biblical passages. McGriff, 26, calls it "the area's first professional Christian dinner theater that operates year-round."
The company's first production is "Prodigal: A New Musical," which is loosely based in a parable found in Luke 15. The final shows in its run are scheduled for Friday, March 28 through Sunday, March 30. Tickets for dinner and the show range from $45-$65; visit www.NewHorizonsTheater.com or call 703-704-5790 for more information.
THE IDEA for the New Horizons Theater was born while McGriff served as director of fine arts at Antioch Baptist Church in Fairfax. He said a couple of deacons at the church owned the Mount Vernon Highway building and wanted to hold faith-based events there.
"There's a lack of faith-based theater," said McGriff. "So then we decided to take it a step further and make it a dinner theater."
Ebonee Johnson, marketing director for New Horizons, said the company will put on seasonal productions, with the location considered its permanent theatrical space.
"It's a permanent facility in the sense that the owners of the company actually own the whole building," she said, adding that different sections of the building will be leased out.
With a theater space established, it was up to McGriff to begin creating a theater company. A veteran director of over 40 stage productions who received his BFA in Directing from Howard University's School of Fine Arts, McGriff envisioned New Horizons as a professional, rather than a community, theater group.
"If we're going to do this, we're going to do it right. Our goal is to, in a few years or so, be on the same level as Arena [Stage] and Studio and Signature theaters. I've worked at all three of those; we're operating under the same structure they are," said McGriff, who lives in Arlington.
"PRODIGAL" WILL finish its run with four shows scheduled for March 28-30. Dinner service for Friday and Saturday night begins at 6 p.m., with the show at 8 p.m. There is matinee dinner service for Saturday (noon) and Sunday (2 p.m.), with shows following at 2 p.m. and 4 p.m. respectively.
Among the menu items offered at the dinner theater are Mesclun Salad w/ cherry tomatoes, toasted walnuts and balsamic vinaigrette; Herb-Roasted Beef with caramelized onions, roasted garlic and creamy port sauce; Black Turkey with homemade chutney compote; and Malva Pudding with fresh berries and berry sauce.
On the menu for New Horizons for the rest of the year are a musical version of the Samson and Delilah tale starting on June 20; an epic retelling of Jonah and the whale that will include special effects beginning in September; and "A Christian Carol," which McGriff hopes can become the theater's annual show.
He said all of the productions will follow the basic themes of the Christian-based theater. "We mainly deal with family-themed shows that speak with hope and inspiration," said McGriff.