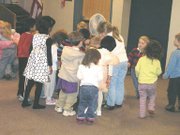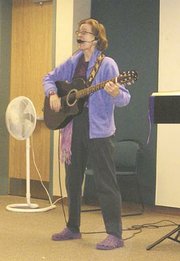 The scene is reminiscent of many concerts: a throng of fans crowds as close as they can to the microphone, swaying to the music and requesting favorites; people behind them have enough room for some full-on dancing and hand-clapping; the shiest are around the edges of the room, singing along under their breath and watching the action closely. The singer commands attention, wearing layers of violet, lavender and plum, and playing a purple guitar. She is Isabelle Chester of McLean, but her stage name is Miss Belle, and she's one of the popular performers on the preschool circuit.
Today's show in the community room of the Herndon Fortnightly Community Library has drawn a core audience of under-10s and their parents, although a few older siblings out of school for spring break listen in as well.
Chester plays some standard songs, with a few twists – after the wheels on the bus go round, round, round, "Miss Belle on the bus goes 'sing, sing, sing,'" and Twinkle, Twinkle Little Star is followed by the all-too-appropriate Twinkle, Twinkle Little Stoplight. Chester adds her own songs into the mix: The Belly Button Song prompts several toddlers to show off their navels, and Dance Daddy Dance tries to get the fathers in the room involved.
"I'm singing to everybody here," Chester said. She likes the idea that by entertaining the children, the parents can take a short break: "My hope is that that is going to relieve some of their stress … This is a safe place [for children] where grown-ups can talk."
PUT SIMPLY, PERFORMING makes Chester happy as well. "I've had the most fun of anyone," she said at the end of her Herndon concert. She explained that she reached an epiphany about music and performing several years ago. "It made me happy," she said. "You can't really fail if you're happy doing something, it's intrinsically successful."
By mid-April, Chester will have a set schedule performing five days a week in Northern Virginia and Maryland. Tuesdays she is at the Mayorga Coffee Factory in Silver Spring and the Chesterbrook Starbucks in McLean, Wednesdays are her library days – she visits the Dolley Madison, Patrick Henry and Great Falls libraries. Usually the first Saturday and first Wednesday of the month she appears at the Aladdin's Lamp Bookstore in Arlington. Monday and Thursday mornings she teams up with Oh Susannah, Susan McNelis, for performances at Jammin' Java in Vienna and Mayorga. Special programs, like the Herndon performance, are also common. Visit http://thebiggestbelle.com for schedule updates. The schedule is tiring, but Chester says she has the best job in the world. A moment later, she reconsiders: "How can I call this a job?" she wonders. "It's what I do, it's who I am."
Reaching the point where she is performing so often has been a journey of several steps for Chester. "I thought I was going to be a writer," she said. After studying creative writing in college, she has "the closet full of writing that many of us have." But she wasn't a fan of the critique that necessarily comes with a career in writing. And she missed music. She had started playing guitar when she was in fourth grade at McLean's Potomac School, with a '70s program of learning songs from popular folk artists, including Joni Mitchell and the Beatles. She also took classical guitar for three years. Chester said she was writing songs when she was 11, but came back to it when she was in her mid-20s, living in Centreville and studying with musician Doug Rainoff in Chantilly. "He just unlocked my songwriting," Chester said. She found melodies coming into her head constantly: "I would go on walks in Great Falls in the park and I'd have to take a tape recorder."
It was several years later, living in Great Falls and now raising daughter Kyra and son Kyle, that Chester started working to share music with children. She was part of St. Francis Episcopal Church when they were beginning their crèche preschool, and was asked to direct the children's choir and be the school's music teacher. "They were wonderful," Chester said, but she soon realized that teaching was not what she wanted to be doing. "That's a whole commitment and a whole life, and I want to perform," she explained. "I made a choice to say, 'I want to perform.'"
Because she lived near the Great Falls library, she decided to try that as her first venue. "I asked if they would take a volunteer singer," she explained. "They really, really took me in. It was volunteer, but I felt like I was getting paid a million dollars." Her success there snowballed into more performances in more places. Although she now performs in many Fairfax County Public Library branches, she remains attached to where she began: "Great Falls really has my heart," she said.
Her fan base sometimes follows her to several venues; although the concert at Herndon Fortnightly was a special program, Chester said she recognized a few of the children from past shows at Great Falls and Vienna's Patrick Henry library.
Chester ends each performance with time for hugs and stickers: "I get a hug and you get a sticker," she told the children at the Herndon library. She set down her guitar and knelt down, and was immediately surrounded by children. Several children wanted to make sure they got a homemade sticker, with a picture of Miss Belle on it, for their siblings and parents.
MUSIC IS somewhat of a family affair. Her 15-year-old daughter Kyra, a student at the Madeira School, "has a beautiful singing voice," but isn't interested in pursuing music at the moment, Chester said. Her 9-year-old stepdaughter Elea is learning to play piano. But it's her son Kyle who "has the gene," Chester said. "He'll outdo me in probably a year and a half." Kyle plays several instruments, and is able to play songs by ear after hearing them. Chester said her husband Luís is helping her work on a CD of her music. She intends to have the proceeds go to children's charities. She's not sure when the CD will be available. "It's a process," she said, but promises that once the first one is finished, several more will follow.
Chester got into children's music "partly by default," she said. She still likes working with other genres, including folk and Christian music. "Definitely not rock and roll or blues," she laughed. In addition to her programs for children, she makes time to sing for senior citizens at nursing homes and the Sunrise Senior Living center in Tysons Corner. "It's actually very relaxing, I love singing for them," she said.
Working with another musician is another variation on Chester's theme. Two mornings a week she performs with Susan McNelis, who goes by Oh Susannah when she is performing for children. "When you're solo it's you and the kids. Sometimes it's a little scary," Chester said. Performing with someone else is "fun in a very different way," she said. She added that several songs let her take a break from playing her guitar, and she gets off the stage to dance with the children. "Dancing is my other favorite thing," she explained. Working with another musician boosts Chester's confidence as well: "If she approves, I can't be all that bad," she said with a laugh.
McNelis isn't the only one approving, if the reactions of the children and their parents are any indication. Even the staff at the Herndon library were trying to find a time for her to come back, and suggesting other opportunities for her to perform in the area.
"One of the best complements is 'Are you going to be here next week?'" Chester said. She is also happy when her performance has put a baby to sleep – it's a good sign "when the baby's trusting enough to fall asleep."