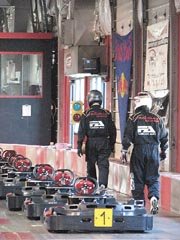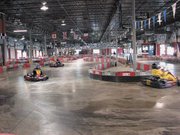 As Francois Duret explained to a group of grown men in racing jumpsuits how exactly one should take the hairpin turn on the indoor track at Allsports Grand Prix in Dulles by going out wide and then accelerating out of the turn it became crystal clear that these men were about to participate in a different type of kart racing.
"This is the closest most people will come to actual racing," said Duret in his French accent before the safety meeting where he explained how racers should take all the turns of the course in order to get the lowest lap time, "There is a difference between amusement racing and what we do."
Duret, who use to race professionally on courses at Lamont and Monaco, opened Allsports Grand Prix racing in 2000 after retiring. The facility offers anyone with a driver's license the ability to race karts on a 1,000-foot-long track designed by professional racers in three different types of karts depending on the skill of the driver. Often booked by corporate groups who want to come and race the track is also open to walk-ins and parties. Anyone who wants the experience of real racing can come and try it out Duret says.
"The track is kind of slippery and makes it feel like you're really racing," said Rick Kellogg of Fairfax Station who came to race with his son, Joel, "Of course if you're slipping and sliding then it means you're driving wrong."
Drivers put on full racing suits, helmets and gloves to race. Depending on the size of the group and whether reservations were made or not, drivers can participate in three different types of races. Drop-ins can do "arrive and drive," which is eight minutes of racing the clock or whoever else is around. Larger groups can participate in "spring heat racing" or a "mini grand prix," both involving qualifying rounds and timed courses. The main point of all three of these races is to have the fastest lap time possible.
"We have a lot of people who race professionally or for fun with their own money and they will come in here for practice," said Samantha Fitzgerald, the events coordinator and office manager for Allsports Grand Prix.
It isn't all professional racers and corporate events. Walk-ins like Kellogg and his son are regular occurrences. Learning to drive isn't that hard either says Kellogg but he notes that it takes a lot of skill to get really good.
"It isn't like video games where you can just hold down the accelerate button and drive the whole course," said Joel Kellogg, 17, who found out about the track from a car dealer when he was looking for a car with his younger sister. "It's pretty realistic and it takes a lot of skill to get good."
WHILE A DRIVER'S license is a necessity for walk-ins, younger children who want to race are not out of luck. The course offers a weekend driving course for juniors where children learn how to drive the karts well and safely.
"We started the classes so that kids could start racing," said Fitzgerald, "We want kids to be able to understand the formalities and be good drivers. It is far more in-depth than a normal kart track; it teaches them how to be drivers."
Children who really enjoy racing can participate in the tracks Junior Racing League which takes place every Saturday when in season during spring, fall and winter. Children who have completed the weekend course compete every weekend throughout the season to be the best driver in the league based on an overall score.
"It's like another sport for parents to introduce their kids too. Some parents take their kids to soccer, or baseball, or basketball and now there is a chance to introduce them to driving or karting. The kids range in age from 7-18. They start off learning how to drive the line and how to drive the karts and what we teach them as instructors is how to stay on the racing line," said Brian Hair, a frequent racer at the track who instructed the children's course in the past, "It's amazing how quickly they pick up that. The driving becomes instinctive to them. After a day and half they know how to drive."
Duret says that the racing gives children more then just a head start on their driving skills. He points to the sportsmanship that is taught by the professional style driving at the course and to the confidence that is gained by a child who learns how to drive by themselves.
"Lot's of parents aren't sure what to do, especially with smaller kids who can't compete as well in other sports or kids with ADD," said Duret, "they come here and do very well. We encourage them and tell them to do their best but we don't mollycoddle them, they have to race safely and well."
Their best seems to be good enough too. Many child racers who got their start racing at Allsports Grand Prix are now professional drivers racing Indy cars, rally vehicles or even in NASCAR. Most return to practice at the track during the racing off season too.
LEAUGES AREN'T JUST for children either. Allsports plays host to the BMW Car Club of America Karting League and the Porsche Club of America (PCA) Karting League, both of which race regularly. Many of the driver's use the league as a way to race in the winter, preparing for outdoor racing in the spring but what it finally comes down to is fun.
"The adults are very enthusiastic, bring their own helmets, gear, suits, shoes and they'll pretend they're a race car driver for a weekend," said Hair, who is one of the organizers for the BMW league, "The other thing it does is it brings back that youth feeling for older people, they can just come have fun."
Hair warns that the leagues aren't for everyone though, pointing out that the BMW league's worst racer is probably better then 95 percent of the racers who go to the course.
"It's a skill that take practice and it requires precision," he said, "you don't just go out and hit the gas and break and expect to get a great lap time. You have to do it aggressively.
WHAT ALLSPORTS offers outside of racing for the more serious is a chance for novices to experience great racing in a safe environment. The course itself is surrounded by safety barriers that absorb most impacts well and driver's safety is the top priority says Duret. This is one of the reasons why the bumping and swerving of amusement karting tracks is punished.
"I like speed," said Kellogg, "and this is a great safe way to come out and satisfy that."
Duret and Fitzgerald know that high speed racing can be a bit scary but they both say that once you get behind the wheel it is nothing but fun.
"Just come down and have a look, we are very open," said Duret, "There are kids, parents, all types of people. All you have to do is come in and give it a try."