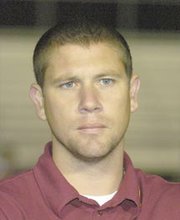 What was an overall good season for the Broad Run High boys' soccer team last year ended in disappointment with a first round loss to Park View in a first round game of the Dulles District tournament.
For a Broad Run team that had finished a strong third place in the regular season standings and beaten Park View in both regular season matches, the loss to the Patriots in the district tournament was certainly a downer. For the season, however, Broad Run finished with an impressive 12-5-1 overall record.
This year's Spartans' lineup has seven seniors back from last year's squad, five of those who started. But Broad Run will have several younger players in its starting lineup this spring, as well, with two freshmen and three sophomores projected to be starters.
Over the pre-season, fifth year Broad Run head coach Jonathan Hicks was particularly impressed with freshmen players Kevin Reitzel and David Ellsworth, both midfielders and high-energy players that could give the Spartans increased firepower.
Ellsworth was not on hand for Broad Run in its tough season opening 1-0 loss at non-district opponent Loudoun Valley on March 14. The youngster was in Spain.
It was a frustrating season-opening loss for Broad Run because the Spartans got the better of the play for the most part, out-shooting the Vikings, 23 to 10, and having a score called back.
Broad Run simply could not finish off offensive surges by getting the ball into the net, and the result was the low-scoring setback.
"We played better, we just didn't get the results we wanted," said Hicks. "We hit the post [on shots] a few times."
In a prior contest, Broad Run had soundly defeated West Springfield High, 4-1, in a pre-season match-up. But the Spartans could not carry that positive momentum into the Loudoun Valley game.
"It was frustrating," said Hicks, of the loss. "But you look at the bright side — it wasn't a district game. I was happy the way we played, just not with the outcome. Valley played hard, and they always do."
Hicks would have loved to have had the young Ellsworth available for that game.
"If we had him, things maybe would have gone a lot better," said Hicks. "He and Kevin compliment each other. David is smaller [physically] but does a lot of hard work. Kevin is better on the ball and distributes."
Both Reitzel and Ellsworth should add a lot of punch to the Spartans' midfield play. But the Spartans' leader in the midfield is junior Onari Tatiah, a returning starter who scored seven goals last year.
<b>MOST OF BROAD RUN'S</b> experience comes on defense where seniors Shane Johnson and Jake Leahy will lead the rise in shutting down opponents. Johnson, a center back and one of the district's better players, recently committed to play the sport collegiately at Longwood University in Virginia.
Johnson is an all-around excellent player who can also help the team out on offense when needed. Against Valley, he was moved up to a forward position over the game's final 15 minutes to provide some punch. The Spartans attacked Loudoun Valley's defense with more force during that final stretch of the game and nearly scored.
"He moved to striker," said Hicks, of Johnson's move from defense to offense in that game's final stretch. "He made a lot of things happen. We just weren't lucky enough to score. Shane's a big, physical and confident player. He's a pure soccer player."
In the net this season for Broad Run will be goalie Marvin Brewer, a first year starter who served as a back-up in 2007.
"He's big and athletic but hasn't had much game experience," said Hicks, of Brewer. "He's 6-foot-3 and a former football player. He's good in the air."
Hicks said Broad Run does not have a pure offensive scorer. He said the team will have to have several players contribute offensively while also shutting teams down on defense.
"We'll have to defend," said the coach. "Defensively we're going to be strong, and we usually are. We're lacking the goal scorer to put the ball in. We're hoping we have guys score five or six [for the season]. We have skilled players."
The Dulles District is loaded with talented teams that could be in the hunt for a district crown. The team to beat is defending district champion Potomac Falls. But teams such as the Spartans, Loudoun County, Park View and Heritage could all give the Panthers a strong run.
"If we can get a couple of upset [wins], I think we have a chance," said Hicks. "We have younger kids and they'll just come out and play. I think we have a shot but this is definitely the best district in the state [at 2A], from top to bottom."
Broad Run opens up its district schedule this Friday night with a game at Briar Woods.