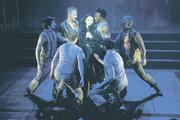 <b>JOHN KANDER</b> and Fred Ebb created the music and lyrics, respectively, behind such hit Broadway plays as "Cabaret," "Chicago" and "Kiss Of The Spider Woman." Over the years, the duo has staged many of their plays at Signature Theatre in Arlington.
<p>But in 2004, Ebb died of a heart attack, leaving Kander without his collaborator and friend of more than 40 years.
<p>Since then, Kander has been working to finish the four plays that the duo had been working on at the time of Ebb's death. Several of those plays are now being shown at Signature as a part of the theatre's Kander & Ebb festival.
<p>The Arlington Connection spoke with Kander about his life, about his collaboration with Ebb and about how the creative process works for him.
<p><b>What do you like about Signature Theatre?</b>
<p>I'm lucky in that it works both ways. [Artistic Director] Eric [Schaeffer], who is a good friend, came up with this idea for a mini festival for Fred's and my work, which delighted me of course. Fred would have loved the idea. Sig itself is an extraordinarily vital theatre organization. Eric has this imagination and energy which makes working there very exciting. And the new theatre there is very gorgeous.
<p><b>Do you think Broadway will always be at the center of the theater universe? Why?</b>
<p>I think it's not Broadway so much as it is New York. New York is still the cultural center of this country. Just by definition, there is more activity there. Regional theatre, which is almost a deprecating phrase, is growing. Theatres like Eric's are very much at the forefront. But there will probably always be a center.
<p><b>So you think some of the best work is done off Broadway?</b>
<p>Yes I do. The center of commercial theater in New York is Broadway. Everything is more expensive and star driven. But the adventurous work takes place somewhere else simply because of the difference in financial risk. Broadway kind of reflects what's going on rather than invents.
<p><b>How did your life change after Cabaret came out?</b>
<p>No matter what you may read nothing is an overnight success. But Cabaret changed our lives. We had had one musical together… but the show was not a success. Cabaret was. We were able to work more. The fact that cabaret was a success made producers more interested in us.
<p><b>What was the most difficult thing for you to adjust to after you became successful?</b>
<p>We had flops and successes, but I don't think that I would have a right to complain about anything in my career.
<p><b>How did the way you work change after your partner, Fred Ebb died?</b>
<p>It's been difficult. The fact is that when Fred died there were four unfinished and unproduced pieces and I felt it was my responsibility to finish and get produced…There was a great deal of revision and completion necessary. These are pieces which Fred and I had almost finished.
<p>In a funny way we're still collaborating. With the new material, I'm trying as much as possible to channel Fred than to be my own lyricist. I did get some help on "Curtains." In "The Visit" there are a couple of moments that rely on me but Fred is always there. I try to channel him.
<p><b>How does the creative process work for you? Can you schedule time to be creative or do you have to wait to be inspired?</b>
<p>It's a discipline. At least it always was with Fred and me. I would go to his house mid-morning and then we'd go to work. I don't know anybody who just walks around waiting for something to hit them. For Fred and me, when we were working on a project, we were working every day and we wrote a lot of stuff we didn't like and tore up. But we wrote a lot and we liked doing it… A painter has to paint and a writer has to write and a composer has to compose on a pretty regular basis. You can take some time off though. I admire people who work that way, who acknowledge that art is 80 percent craft.
<p><b>Have you ever been inspired to write when you're not working?</b>
<p>Oh yes and then you have to stop or else you'll get hit by a car. You try to remember or you grab napkins some place so you can remember. Even when you're consciously working on something, you could be out taking a walk doing it and that's a help. I wouldn't depend on it though. Sometimes if you're having a problem just getting up and moving around and moving to another atmosphere helps. Sometimes it happens in the shower and then that can be kind of messy.
<p><b>What do you have planned for the future?</b>
<p>I'm very curious to find out. I'm quite a ways away from that. I'm curious to find out what I want to write after these four are finished. As I said it hasn't really been a break from Fred. As long as I'm working on these four he's very much involved.