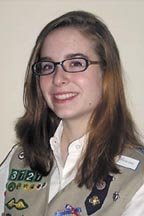 Send announcements, which are open to the public at no or minimal cost, to The Loudoun Connection, 7913 Westpark Drive, McLean, VA 22102 or e-mail to loudoun@connectionnewspapers.com. Deadline is Friday, two weeks before the event. Photos/artwork encouraged. For more information, call Jennifer Lesinski at 703-917-6454. For additional listings, visit www.connectionnewspapers.com.
Loudoun County Animal Care & Control took home three awards at the Metropolitan Washington Council of Government's 2007 Animal Services Awards, presented March 14 in Washington, D.C. The department was honored with the 2007 Adoption, the Outstanding Customer Service and the Dedicated Service awards.
Army Pvt. Stephanie M. Ragazzo has graduated from basic combat training at Fort Jackson, Columbia, S.C.
During the nine weeks of training, the soldier studied the Army mission, history, tradition and core values, physical fitness, and received instruction and practice in basic combat skills, military weapons, chemical warfare and bayonet training, drill and ceremony, marching, rifle marksmanship, armed and unarmed combat, map reading, field tactics, military courtesy, military justice system, basic first aid, foot marches, and field training exercises.
Ragazzo is the daughter of Laura Ragazzo of Chloe Terrace, Ashburn, and Anthony Ragazzo of Seminole Street, Berwyn Heights, Md. She is a 2007 graduate of Broad Run High School, Ashburn.
Army National Guard Spec. Brittany L. Ross has been decorated with the Army Achievement Medal.
The medal is awarded to members of the U.S. Armed Forces, who while serving in any capacity with the Army have distinguished themselves by meritorious service or achievement while serving in a combat or noncombat area.
Ross, a supply specialist with one year of military service, is assigned to Headquarters and Headquarters Company, 29th Infantry Division, Special Troops Battalion, Fort Belvoir, Fairfax.
She is the daughter of Harry L. Ross Jr. of Hay Road, Ashburn, and Sharon A. Price of Shirley Road, Summit Point. The specialist graduated in 2006 from Broad Run High School, Ashburn.
Army Reserve Spec. Hector R. Rodriguez Jr. has been mobilized and activated for a future deployment to an undisclosed overseas location in support of Operation Iraqi Freedom.
Operation Iraqi Freedom is the official name given to military operations involving members of the U.S. armed forces and coalition forces participating in efforts to free and secure Iraq.
Rodriguez, a psychological operations specialist, is a member of the 303rd Psychological Operations Company based in Oakdale, Pa. The reservist has served in the military for two years.
He is the son of Hector R. Rodriguez and Wanda M. Medina of Midvale Court, Ashburn. The specialist graduated in 2004 from Stone Bridge High School, Ashburn.
A Loudoun County Sheriff's Office investigator was honored April 2 for going above and beyond in his efforts to support children and prevent child abuse and neglect. Investigator Dave Canham was one of five honorees from Northern Virginia at the annual Stop Child Abuse Now (SCAN) and Allies in Prevention Coalition luncheon. The event is the official kick-off for the 2008 Northern Virginia Blue Ribbon Campaign and National Child Abuse Prevention Month.
The United States Chamber of Commerce presented Congressman Frank Wolf (R-10) with its Spirit of Enterprise Award for his support of pro-growth legislation during the first session of the 110th Congress.
In addition, the National Breast Cancer Coalition (NBCC) has awarded Wolf with a Certificate of Excellence for his perfect record of supporting the NBCC's legislative priorities in the first session of the 110th Congress.
Jonathan Meyer of Ashburn, a junior majoring in psychology in the College of Science at Virginia Tech, was recently inducted into Phi Alpha Delta Honor Society.
The MADD Poster Essay Ceremony was held at Cascades Library April, 20. MADD Loudoun president Susan Cleveland, and Shannon Beam, Miss Central Virginia, presented the awards. The 2008 Youth Ambassador is Rachel Zaragoza of Belmont Ridge Middle School. For more a complete listing of winners visit www.maddloudounva.org.
Linda Holtslander, Loudoun County Public Library's division manager for development, programs and public relations, has been selected to be a Fulbright scholar grantee to Finland from August-November. The research she will accomplish is an in-depth observation of the Helsinki City Library, the first recipient of the $1 million Bill and Melinda Gates Access to Learning Award. The research and photo documentation will highlight Library 10, a unique facility that was planned with the awareness of the needs of the city's young adult residents and places a special emphasis on programming, popular culture and technology.
Phillip R. Butterfass, contracting officer for Loudoun County, has been accredited as a certified professional public buyer (CPPB). The National Institute of Governmental Purchasing Inc. administers the program under the auspices of the Universal Public Purchasing Certification Council (UPPCC).