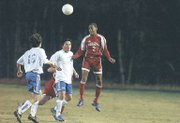 Herndon High's Yazen Sleem scored his third spectacular goal of the season, with a rocket from 30 yards out, to lead the Hornets past Centreville, 3-2, in a recent Concorde District boys' soccer match-up.
Yazen also earned an assist with a well placed cross to teammate Anatole Doak, who scored his third goal in two games. Christian McLaughlin (10 goals, 12 assists on the season) added the last tally off a well placed corner kick from Sol Moutaza.
Herndon led 3-0 late in the second half before Centreville converted a penalty kick to get within 3-1. Five minutes later, the Wildcats earned another goal to bring the score within one. But, after that, Herndon's starters returned and the Hornets controlled the ball and the tempo the remainder of the game.
Herndon was scheduled to close out the regular season on Tuesday of this week with a non-district game against Mount Vernon. Herndon, following the win over Centreville, was 10-1 overall and 5-1 in the district. The Hornets have completed their district schedule and must await other district results this week to determine their seeding for next week's district tournament. They will be either a No. 1 or No. 2 seed.
In a contest versus top-ranked Westfield two weeks ago, Herndon's Doak Led the Hornets to an outstanding 3-2 comeback win over their district foes.
Down 2-0 at halftime, Herndon scored three unanswered goals to come from behind and beat previously undefeated Westfield on their home turf. Alex Stopa made a world class save on a penalty kick to keep Westfield at two goals midway through the second half. Thereafter, Herndon went on a three-goal explosion over the last 20 minutes of the game. Sean Murnane netted his 14th goal of the season, assisted by Christian McLaughlin (12th assist), to start off the scoring. Then, Doak scored two goals in five minutes, the first score tying the game and the latter putting Herndon up for good.
Herndon's Eric Meyer had a great game on the flanks, ripping two balls off the post and providing outstanding service from both the right and left side. Carson Richards stepped up and played well in the back, while Alex Darwiche pushed forward to midfield to give the Hornets the speed needed to get around Westfield's compacted back line and open lanes up for the strikers.
<b>The Herndon High boys' lacrosse</b> team saw its season end last week with a 13-2 loss to Westfield in a first round Concorde District playoff game. The Hornets, as the tournament's No. 5-seed, were on the road for the postseason affair at No. 4 seed Westfield.
The Hornets finished with a 5-9 overall record this spring. Although the record was not good, it also was not all that bad considering that the Hornets had 20 first-year varsity players on their roster. Also, Herndon was regularly going up against Virginia's best teams – teams such as Chantilly, Oakton, Robinson and Westfield – as members of the brutally tough Concorde.
The Hornets' district wins this season came against Fairfax, 10-4, and Centreville, 8-3.
One of the toughest losses for Herndon occurred in a non-district contest when the Hornets fell to Stone Bridge High, 8-6, on Herndon's Senior Night. In that game, Herndon led 6-4 going into the final quarter before several penalties hurt the Hornets. The result was a Stone Bridge come-from-behind win.
"That was a real disappointment to us because we were playing well," said Herndon head coach Bill Will. "Penalties killed us."
<b>HERNDON ENTERED</b> the season as a team lacking a lot of varsity experience. The Hornets lost their season opener against South Lakes, a team they had not lost to in 17 years. But they played hard throughout the season and ended up with five hard-fought wins.
"I was fairly satisfied," said coach Will, of the season. "I thought we made good progress, especially the way we looked in the Fairfax and Centreville games. I think our improvement was masked through part of the season because we play [powerful] teams like Chantilly, Oakton, Robinson and Westfield. Those teams are very athletic and have high skill levels. Chantilly had pretty much everybody back from last year."
By losing its first round district tournament game last week, Herndon did not qualify for the upcoming 16-team Northern Region playoffs. Coach Will believes his squad could more than hold its own against many of the teams from around the region that did make regionals.
"It's frustrating, knowing that you could beat a lot of teams that are getting into the regionals," said Will, well aware that the region's other three districts do not have the same pool of talented teams as the Concorde.
Several Herndon players had exceptional seasons, including senior midfielder and face-off specialist Scott `Rino' Petersen, who led the Hornets in groundball pickups (62) and was third on the team in scoring (15 goals, six assists). Petersen won 60 percent of his face-offs.
Herndon's top scorer was sophomore attackman Billy Kelly, who scored 22 goals with 16 assists and 29 ground balls. The next leading scorer was sophomore attack Ben Mank (18 goals, six assists).
Herndon's defense came along well as the season progressed. Will switched to a zone defensive package during the season to help slow down some of the better teams.
"They really played well [in the zone]," said the coach. "We played zone against Fairfax and Centreville and it really [helped our] confidence."
The defense was led by such players as Eric Geiger, Brenden O'Connor and Ryan Scimeca, along with Brian Curran and junior goalie Chance Anies, who had 20 saves in the win over Centreville.
Curran, who was second on the team in groundballs (49), was an instrumental member of Herndon's zone defense as the middleman who was free to roam and help out.
Herndon, which won games this season over West Potomac, T.C. Williams, Stuart, Falls Church and Centreville, is losing just four players to graduation this spring.