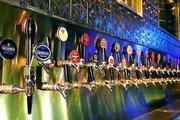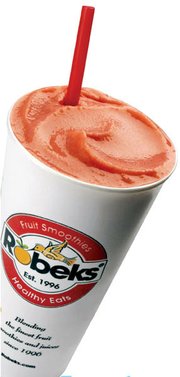 Tea and Tour of Exhibitions. Join McLean Project for the Arts Exhibits Director Nancy Sausser for tea and a tour of the current MPA shows, which are The Divas and Iron Chefs of Encaustic by various artists, Four Months: Paintings by Deena Feigelson Margolis and New Work by Daniel Depuydt through June 7. Free, but reservations required. 1-2 p.m. Wednesday, May 7, at the MPA gallery at the McLean Community Center, 1234 Ingleside Ave., McLean. For reservations contact info@mpaart.org or 703-790-1953.
Snack Making. Learn how to make great snacks, 4-6 p.m. Thursday, May 8 at Club Phoenix at the Vienna Community Center, 120 Cherry St. SE. Call 703-255-6360. Free. Parents are welcome to participate. Call 703-255-6360.
Robeks Fruit Smoothies & Healthy Eats is adding its 20th area location at 8359 Leesburg Pike, Vienna. The Tysons Square shopping center store will celebrate the opening of its Tysons store with free smoothie giveaways and food samples at grand opening celebrations held noon-3 p.m. Thursday, May 8 and Saturday, May 10.
Thursday, May 15, The Tavern at Great Falls, 9835 Georgetown Pike, will be holding its sixth annual Guest Bartender Night, where area residents work to raise "Tips for a Cure" for Cystic Fibrosis and promote the Great Falls Great Strides Walk, which takes place Sunday, May 18 in Great Falls, beginning at the Wachovia Bank at 1 p.m. Call 703-757-4770 or visit www.greatfallstavern.com.
Alessandro Furlan from Furlan Wineries, Udine Italy will be hosting a Gourmet Wine Dinner on Tuesday, May 20 at Cafe Oggi, 6671 Old Dominion Drive, McLean. $72.50 per person, tax and tips included. Call 703-442-7360 for reservations.
Lunchtime With Miss Belle. Bring your lunch and your little ones for a music-filled social hour. Birth-5 with adult. No registration is required. Wednesday, May 21, noon at the Oakton library, 10304 Lynnhaven Place, Oakton. Call 703-242-4020.
McLean Family Barbecue. Third annual event to kick off summer. Games, moon bounce, rides, children's musicians Mr. Knick-Knack and Oh Susannah. Food and beverages available for purchase. Saturday, May 31, 11 a.m.-2 p.m. $8 for children, adults admitted free. Call 703-790-0123 or visit www.mcleancenter.org.
More like this story