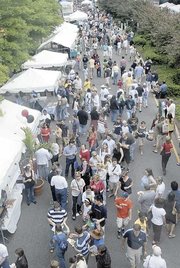 <b>FEW THINGS</b> bring people together like an abundance of food.
<p>Just ask Susan Garvey, the director of the annual Taste of Arlington festival. The event, which is being held later this month for the 21st consecutive year, gives local restaurants a chance to showcase their wares and, Garvey says, promises to be a good time for all.
<p>"I think it's going to be fun," she said. "You get an enrichment experience culturally as well as with cuisine. That's what makes Arlington unique."
<p>This year's Taste of Arlington festival is being held on Wilson Boulevard in front of the Ballston Common mall. More than 30 restaurants – featuring everything from Thai, Spanish, Lebanese, Italian, Asian and American cuisines – will be setting up booths and offering samples of their food for two dollars each.
<p>Lesley Green was responsible for coordinating all the restaurants for the event. She said that, to get the most out of the Taste of Arlington festival, one must carefully strategize so as not to fill up on one type of food. "I would recommend folks to get a set of tickets and taste as much as they can until their stomachs fill up," Green said.
<p>The event will also feature kid-friendly activities and music from local rock band Gonzo's Nose. The proceeds from the event will be going towards Community Residences, a non-profit group that provides housing for people with disabilities.
<p>Alicia Lim, a coordinator for the event, said that this year there will be awards given to the most popular restaurants at the event and also to the restaurant that most satisfies the palettes of a panel of celebrity judges.
<p>"It's a community event that people just expect every year," Lim said. "It's a lot of fun and a lot of food."