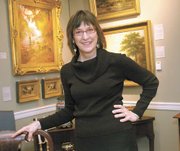 <b>Owners:</b>
<b> Lois Boyles and Richard Totoiu</b>
<b>Short bio:</b>
We have lived in the Washington, D.C. area for more than 30 years. We met while working for a well known antique dealer in Bethesda. ("Love among the ruins" as Richard says.) Previously, Richard had a small weekend antique business in Maryland and had studied art history at Oberlin College. Lois grew up with antiques and artists in her home. In the 1970's there were few formal study programs in decorative arts and the best way to learn was through an apprenticeship to another dealer. After five years of working together in Bethesda we decided it was time to start out on our own. With inventory we had collected over the years we opened Studio Antiques in April 1982 . We paid the bills that first year by working days in the shop and part-time jobs at night.
<b>Why did you choose this particular business?</b>
It was our love for antiques and art that drew us to the business. We enjoyed spending our free time visiting museums, attending auctions and going to estate sales. The possibility that we could support ourselves doing what we loved gave us the courage to open our own gallery.
<b> Why did you choose to work for yourself rather than as an employee for someone else?</b>
Most antique galleries are managed on a small scale with a single owner and a limited staff. If you are a gallery assistant, it's rare to be allowed to actually participate in finding inventory-- which for us is the "fun" part of the business.
We wanted to take the risk of starting our own gallery and making all of the decisions, knowing that we would be personally responsible for all that we sold.
Fortunately, we had years of experience in the antique business and had learned where to find merchandise and restorers as well as having mastered the nuts and bolts of management, bookkeeping and the day-to-day operation of a small business.
We rented a row house in the 600 block of North Washington Street with just the right room configurations to show our inventory to advantage. We poured a lot of sweat equity into that space! After eleven years, we were bulging at the seams, but we were lucky enough to find a larger house with a similar layout for sale just a block away. We've been at 524 North Washington Street since 1993.
<b>What have you learned from being in business?</b>
We have learned to be flexible and willing to change our focus according to the demands of our clients and the fluctuations in the market. When we first started, the majority of our inventory was 18th century and early 19th century furniture with a total of six paintings on the walls. During those first years we discovered that there was a great demand for and small supply of affordable, quality 19th-century paintings in the Washington area. With our love of art, it was a natural progression to add fine art to the mix of antiques. We still have a large inventory of period furniture, but we also have over 300 paintings now.
<b>What have been the advantages and/or disadvantages of operating a business in Alexandria?</b>
Unlike some businesses, the antique and art trade benefits from the proximity of other galleries because people like to travel to areas where they know there is a large selection. Alexandria has a wonderfully eclectic group of antique shops and art galleries that draw people to this area. Of course, Old Town's many historical sights and museums provide a great compliment to our collections.
<b>Description of services and/or products:</b>
Our focus is 18th- and early 19th- English and American furniture and 19th century paintings. The furniture is formal rather than country and made of mahogany,walnut and maple which were the woods of fashion at that time. Our paintings are both European and American and vary greatly in subject matter and style. We are also partial to artists who worked in the Washington area in the late 19th- and early 20th centuries. Additionally, we provide services for painting restoration.
Like many antique dealers, we never seem to be able to limit ourselves to just the furniture and paintings, and so we have a selection of accessories including lamps, bronzes, opera glasses, porcelain, canes, candlesticks and leather bound books. We also have a particular passion for tea caddies and have an extensive collection of boxes. Part of the joy we take in our business is from those surprising discoveries.
An important part of our job is to make visitors feel welcome in our shop. People are often intimidated by art and antiques. We want people to browse, ask questions and feel comfortable with any decisions they may make in purchasing from us. Every item in the shop has a tag with descriptive information and the price. We love introducing new collectors to the joys of owning beautiful paintings and furniture, and we have clients who have been collecting for years and have developed a diverse knowledge base which they are willing to share with us.
Listening and learning is part of what keeps us so engaged in our business. The sign on our door says "Browsers Welcome" and we honestly mean it!