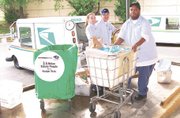 In this era of an economic one-two punch -- rising food costs and rising demands on local charities to provide food for those in need -- the National Association of Letter Carriers, with their annual food drive, once again helped to stop the cupboards from going bare.
Rising Hope United Methodist Mission Church, 8220 Russell Road, just off Route 1 in Lee District, received between one and three quarters and two tons of non-perishable food from the May 10 drive, according to Laura Derby, programs and office administrator, Rising Hope. "That amount of food should take care of our needs for about five weeks," she said.
"We didn't receive quite as much as last year but it was a huge help. Long term though we need a lot of food because we are getting a lot more requests for help," Derby said.
"In 2005 the Letter Carriers were able to give us about six tons. But, donations are just down," she said.
United Community Ministries, 7511 Fordson Road, received approximately 5,000 pounds from the drive this year, according to Jose Fratti, UCM's food pantry manager. "That was down from 7,000 pounds in 2007," Fratti said.
Both organizations also rely on a wide array of community organizations, churches, and businesses for donations throughout the year. "The need for items from our Food Pantry has increased dramatically," Fratti said.
One of the primary organizations to benefit from the Letter Carriers Association efforts in Alexandria was ALIVE, Alexandrians Involved Ecumenically. ALIVE Executive Director Ken Nasser was not able to establish how much his organization received from the drive this year because they are supplied regularly from a variety of sources.
"But, there is one thing I can say, we were very pleased with the amount we received," Nasser said.