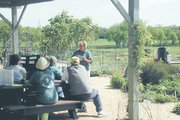 Most people don't know what a Liliaceae is but the Loudoun Master Gardeners do. Most people aren't sure which bugs are good for their gardens but the Loudoun Master Gardeners do. Most people may not be sure what season to plant bare-root berry bushes but the Loudoun Master Gardeners know when. Luckily for every aspiring green thumb and want-to-be horticulturalist the Master Gardeners are here to help with any questions.
"We are educators and what we are trying to do is promote and inform people about the aspects of horticulture in our community and help our environment. As a volunteer organization we act as educators within our community," said Karen Ohlgren, tenured Master Gardner.
The Master Gardeners are a group of volunteers who have received extensive training in the world of gardening under the Virginia Cooperative Extension, which is an educational outreach program of Virginia's land grant universities, Virginia Tech and Virginia State University. A new group graduates each year after three months of in-depth training. Loudoun residents can get help from the Master Gardeners a variety of ways from calling in to the help desk to visiting their demonstration garden. This summer they will not only be offering these year-round aids but also a series of fun classes in the Demonstration Garden every Tuesday and once a month on Saturday mornings through Sept. 13. The next being May 27 on "How to Plant Beautiful Container Gardens with Barbara Arnold."
The courses are free and open to the public and all taught by experienced Master Gardeners. Courses are hands on and demonstrate a variety of gardening subjects that help the average Loudoun gardener. The May 27 demonstration is a good example of this since many residents live in areas with smaller yards or restrictions on what they can do to their yard so container gardens are something they can do without taking up to much space.
"There are many people, who because they might live in a very small community, they might have restrictions on a big garden but they can always plant something in pots on their deck so we encourage people to do some container gardening," said Kristin Westfall who has been a Master Gardener for more than a decade.
The Master Gardeners also offer more extensive classes and workshops the first Thursday of every month at the Extension Office, 30 Catoctin Circle, S.E., Suite B, Leesburg. These are often hosted by respected individuals in the world of gardening and horticulture or by Master Gardeners who have a focus on a specific area. Ohlgren will be lecturing at the next association meeting, June 5, putting her background in biology to use by discussing common insects and the difference between pests and beneficial bugs. These courses are often attended by Master Gardeners to learn more and further their knowledge, but the main point is to provide easy to access education for people who want to garden.
"We have had people who have lived in the city all their life and they move out to Loudoun and they buy 3 acres and they say 'Where do I start?' or someone who moves from California and needs to learn gardening again needs a place to learn. Just being able to ask questions and learn, you can be an absolute novice at gardening and you are welcome into the program," said Westfall.
RESIDENTS DON'T have to take courses or even garden to enjoy the results of the Master Gardeners' work. In 1992 the graduating Master Gardener class decided to build a demonstration garden where the public could come and enjoy an entirely organic garden and the Master Gardeners could learn and work.
"It started out with just several beds with vegetables. Right from the start when the garden started producing, our produce has always gone to Interfaith Relief. One year we contributed probably around 3,000 pounds of produce," said Westfall.
The garden, located in Ida Lee Park Drive in Leesburg, is approximately 1/3 acre and features raised beds and small-space vegetable areas, a heritage garden highlighting some plants from Virginia's past, a children's garden featuring child-friendly plants and activities, a shade garden created under pine trees, a newly fashioned "wedding garden" perfect for special pictures, a butterfly garden and a fruit tree area. The public can walk around, relax and have fun there.
"The children's garden is really neat. It's just incredible this year. There is a little fairy garden, they can dig, there are tools for them and an alphabet thing with plants," said Ohlgren. "We're actually going to be starting once a month with a children's program with it. That'll be a lot of hands-on activity."
The children's program, which begins June 21 with some fun with wiggly worms, will be offered monthly on Saturdays to correspond with the Saturday Morning in the Garden courses. Children will get to have some fun outside while learning about how plants and gardens grow.
"I know, for me, that my gardening started because my father had me along side of him with my hands in the soil," said Westfall. "Children can get interested in it and they're fascinated with the idea of watching a plant grow and germinate."
BECOMING A Master Gardener is not easy but it is something that anyone can do no matter how green his or her thumb is. The Master Gardeners' course runs once a year beginning in February and runs for 10 weeks. Participants attend class on Tuesdays and Thursdays and learn the basics of gardening from how plants grow to the best ways to grow them. Cathy Anderson, a recent graduate from the course, said that most of the learning is done in the classroom but there are many hands-on experiences. Each class teaches a different subject and prepares students to help residents with any gardening questions.
"The classes are Tuesdays and Thursday morning classes for almost three months. I've always been interested in gardening and I took this course and just learned a vast amount of information. It was very informative and it was fun," said Anderson.
Once students graduate they must commit 75 hours to volunteering with the Master Gardeners and the Extension Office. This could be working at the demonstration garden or answering the Master Gardener's hotline. Even after becoming a tenured Master Gardener all members are required to participate at least 25 hours a year in order to maintain their status.
All three women said that the program has helped them make lifelong friends who are interested in the same things they are. It also gives them a chance to improve their own gardens and become more involved in the community around them.
"I had been interested in getting involved more with the community and I wasn't sure which direction to go in and what would allow me to have fun doing it. This just seemed like a really useful way to share what my knowledge is and hopefully get people on a really good environmental track," said Anderson.