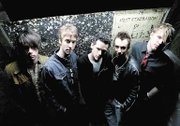 Before the band dipped its toes into the pool of the Philadelphia, New York and Washington, D.C. music scenes, the humble and historical Lancaster County, Pa. served as the home of alternative rockers Negative Space.
"There's a lot of really great homegrown talent [in Lancaster]," said lead singer Josh Nice. "There's general support for the arts and for youth. I don't know if that comes from Philly, N.Y.C. or D.C. but, I'm glad it's here." In addition to Nice, the band's current line up — Rick Lienhard and Britain Roda on guitars, Mark Reinmiller on bass and Jimmy Everly on drums — has been together for three years, growing out of variations dating back to 2002.
Storylines¸ Negative Space's third release, autobiographically details the lives of the bandmates both individualistically and as a group. "It's cliché to say that we've matured, but there've been a lot of growing pains over the last few years," said Nice. "Due to that, we've been forced to put that foot forward. There's been a lot more experience plus, we've added more songwriters and more heart into [the band in the past few years]."
As all five members contribute to the songwriting process, the product turns out to be a mix of tales including accounts of debt, loss of friendship and family. The album's fist single, "Honestly," wraps the fear and acceptance of the distance that can shatter relationships into an uplifting rock tune with a raw punk vigor, a genus carried throughout the album.
"One of our stories is that we've been blessed to work with so many talented people," said Nice. Having hooked up with producer Kirk Kelsey for a previous EP, the band rejoined him in his Georgia home studio to track, mix, eat and sleep their way into a brand new album. "Living with a family for the process, allows you to grow as an artist and as a person."
Since then, the group has been toting around the brand new CD, stopping at Fairfax's Fat Tuesdays on June 6 and trying out various marketing techniques within a rapidly changing industry. Capitalizing on the popularity of video hosting site You Tube and fans' love of singing along to "Honestly," they've created a contest challenging listeners to create and post their own video of the song, promoting not only themselves but a creative outlet for others. Aside from a good time, the handpicked winner receives $500 straight out of the band's pockets.
"Most guys get into bands and think it's just going to be about playing music but, when you get down to it, everything begins to get complicated," said Nice. "I've learned that promotion is an art within itself and there's music on the other side of that. If you don't learn to balance that out, you're not going to get anywhere."
Negative Space has chalked up a degree of success, winning over fans from Vermont, all the way down to Key West. Their efforts have earned the band a spot on stage with the likes of Eve 6, Fuel and 3 Doors Down.