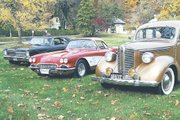 Only recently Morven Park Equestrian Center was the site of one of the biggest horse-centered event in the country when it played host to the America's Cup of Polo but the rest of the park seems to have turned its back, at least for now, on the four-legged creatures because on Saturday, May 31, it will be taken over by horseless carriages. The park will be presenting its first classic car cruise full of antique automobiles from muscle cars to Model Ts.
"It's going to be great a classic car show," said Dough Smith, who created and planned the show. "There are going to be hot rods, street rods, muscle cars, all sorts of great classic cars. It's also for a fund-raiser for the Loudoun Douglass Alumni who give out scholarships. We're going in half with them and our half will be for the historical programs at Morven."
THE EVENT, which Smith said will be a great day for family and children, will take place from 10 a.m.-4 p.m. and features cars from all over the area. There will be awards given out to 20 cars as people's favorites and a grand prize given to the best car of the show, which will be selected by employees at Morven Park. Attendees will be able to peruse the cars and talk to their owners. The park is also hoping to have some cars from Gov. Westmoreland Davis' era to display as all the staff will be dressed in period clothing from the time he was governor and lived at Morven Park.
"We think there will be close to 100 cars," said Smith who will also be displaying his own car a '66 Chevy II. "We'll have food and an oldies DJ and a free hayride to the carriage museum at the park. There's also going to be a raffle with some great prizes."
Not all the cars will be full-sized though. A display with more than 30,000 Matchbox and Hot Wheels cars will be on display for children to see. The toy cars are from a local Purcellville collection, and much like the real size cars, are from all time periods.
Smith says that the event will be great for making a day out of and that families can also enjoy the rest of Morven Park, like the garden, which will be next to the car show. The best part for him though will be seeing all the great classic cars.
"I think it is the nostalgia and the cars being old and looking good," said Smith, of why he believes classic cars are so popular. "It brings back a lot of memories to a lot of people of how it used to be."
Tickets for the car show cost $5 for adults, $3 for seniors and children under 12 are free. Morven Park is located at 17263 Southern Planter Lane, Leesburg. Call 703-777-6034 or visit www.morvenpark.com.
<1b>— Matthew Razak