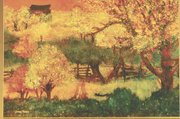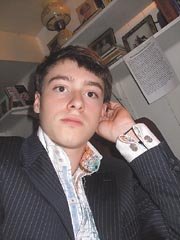 Springfield resident Jordan Kester has an eye for art, which he hopes to develop further when he attends the Art Institute of Washington in Rossyln. He's already received national recognition, earning a third-place trophy in the annual arts competition sponsored by the National Association of Christian Schools.
A student at the Fairfax Baptist Temple Academy, Jordan, 17, took some time away from his schoolwork and art to answer a few questions about himself.
Number of years in the community. I've lived in Northern Virginia since 1990, Springfield since 1999. I was born at Fairfax Hospital on Gallows Road.
Family. I live with my Dad and Mom, Peter and Sandy Kester. My older brother, Jeremy, is studying environmental science at the University of West Florida, in Pensacola, Fla. We have two dogs — Max, a laid back Pug, and Peanut, a high energy Jack Russell Terrier.
Education. I've been attending the Fairfax Baptist Temple Academy for 12 years.
Your first job. I delivered the Connection Newspaper at Greenfield Farms on Burke Road back during elementary school. My first real job is currently at the Bagel Bakery on Old Keene Mill Road at Rolling Road.
Activities/interest/hobbies. I enjoy working with graphics software. I've played soccer for school and county teams. Of course, art is a favorite. I'm getting into video editing using a video camera I got for Christmas. I'm pretty proficient in computers, and this year I've been doing a lot of mountain biking with my friend Tim.
Favorite local restaurants. I like hanging out at Chipotle, Outback, Bonefish Grill and Joe's Crab Shack.
Community concerns. Because of my recent interest in Mountain Biking, the care and maintenance of mountain bike trails is pretty important.
What career do you think you'll pursue? Definitely Graphic Design. I am planning to study at the Art Institute of Washington in Rosslyn.
Personal goals. I'd like to travel overseas. I'm going to Sweden in June, and studying art and art styles.
How did you get interested in art? Probably the annual school arts competition for Old Dominion Association of Christian Schools (ODACS). My first award was for a black/white photograph. I also entered into competition with sculpture, mixed media and charcoal artwork, besides an acrylic painting in 2008. I've used any medium I can get my hands on. I've done designs on sneakers and khaki pants, pen and ink drawings on most anything, and spend a lot of time experimenting with graphics on the computer. This year, I got to help design the cover of our school yearbook and work on the school newspaper among other projects.
What has been the biggest influence on your art? I'm thankful for guidance from my art teacher at FBTA, Mrs. Sue Lewis, and our Computer Lab teacher, Mrs. Deanna Dyck.
How would you describe your artwork? Always expanding and changing, usually broad and experimenting, with a lot of abstract ideas.