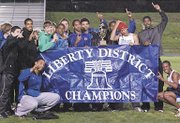 The South Lakes High boys captured first place at the recent Northern Region track and field championships, which took place May 22 and 23 at Lake Braddock High School.
The Seahawks, coached by Alfred Buckley, won the event with 93.50 team points, besting runner-up Edison (86 points) and third place T.C. Williams (77.50). Lake Braddock finished fourth overall with 51.50 points, ahead of fifth place West Potomac (45) and sixth place Stone Bridge (35).
Senior A.J. Price had an outstanding meet, winning three events – the 200 dash, the 400 dash and the long jump. He was also third in the high jump.
Seahawk junior Vincent Brown won the 110-hurdles event. He also had a second place finish in the long jump, a third place finish in the 100 dash and an eighth place in the 200.
Senior Nick Vaughn placed in both the 400 (second) and 200 (fifth) races, while sophomore Adrian Vaughn also placed in two events – the 200 (fourth) and 400 (fifth).
South Lakes junior Quintin Fortes was fifth in the discus event.
South Lakes' 4x400 relay team of senior Kevin Hickey, Nick Vaughn, Fortes and Price was a second place finisher behind first place West Potomac.