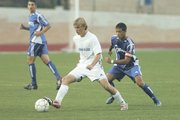 After just 157 seconds of play, the Northern Region Championship was decided as Stone Bridge senior Ronnie Shaban handled a throw in, spun and placed a shot from the left side of the goal box to the top right corner of the goal and the Bulldogs made it stand up, defeating Robinson at Yorktown High School on Friday night, 1-0.
"I was able to get the turn and touch, luckily I got good contact on the body and looped it over a 6-foot-5 goalie [Robinson senior Adrian Dominquez]," said Shaban.
The explosive start to the game retained its fever pitch as Stone Bridge continued to attempt to strike quickly throughout as Robinson controlled the ball and much of the action but came up empty.
"We just couldn't get it in. It came down to finishing opportunities that we didn't put away and that was the key. We knew it was going to be a one goal differential, that's for sure, especially with Stone Bridge," said Robinson head coach Jac Cicala.
The Bulldogs became accustomed to tight scores as they made their way through the Northern Region tournament beating West Potomac, Herndon and Yorktown by that same 1-0 score. The Rams, however, gave Stone Bridge a different hurdle.
"We gave away a little possession but that's the first time all season long that we really gave away a lot more of the possession to another team," said Stone Bridge head coach Randy May.
With the Rams controlling the pace and the Bulldogs attempting to pick and choose their opportunities, emotions bubbled to the surface as three yellow cards were handed out in the contest.
May believes that his Bulldogs might have learned from the Robinson threat.
"Maybe it teaches us that [if] we can get our moments, capitalize, and score our chances, we can sit back and believe me it was not by design, but play a soft, holding type of defense but we understand now we can do this if we have to," said May.
Robinson pulled out all the stops to attempt to get the equalizer that never came, including putting senior captain Seth Goldman up front. Normally a defender, Goldman was hampered by a knee injury suffered in the first round of the tournament in their 3-2 victory over Wakefield, but with 10 minutes left in the game, he removed his knee brace hoping it would help the Rams find the net.
"I just couldn't sprint with it on, it really didn't feel that great with it off, but I was able to run a lot faster. I couldn't move much side-to-side so coach put me up top to see what I could do but unfortunately we couldn't get it into the box in the last five minutes," said Goldman.
Goldman and the Rams will travel to Virginia Beach to take on the Eastern Region champs from Cox High School in the first round of the VHSL AAA state tournament on Tuesday while Stone Bridge welcomes Kecoughtan High school, the Eastern Region runner up.