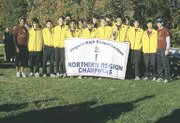 A year ago, the Oakton High boys' cross country team saw its season of high expectations end in bitter disappointment with a fourth place finish at the state championships. But that heartache is all but forgotten now following the Cougars' first place showing at last Saturday's state AAA championships. The postseason event took place at the Great Meadows course in The Plains.
" I thought we had the best team we ever had, and I think the guys knew it," said Oakton coach Phil Tiller, of last year's squad that did not quite live up to expectations. "We ran into two major injuries, which just kind of killed our shots. [This year] there was nothing else that we would accept. There was nothing else that would've felt good. Taking first today with 71 points was a real accomplishment. The pack was fantastic. They peaked right at the right time. I was really proud of them."
Oakton, with its 71 points, finished ahead of second place Albemarle County (117 points) of Charlottesville, third place Douglas Freeman (149) of Richmond and fourth place Mountain View (151) of Stafford in the team standings. Jefferson High, last year's state champion and, like Oakton, a member of the Northern Region, finished seventh overall. And another Northern Region team, Lake Braddock, was eighth.
The team title was the first for Oakton since 2005.
"We had that run in 2005 and it was very, very special for us," recalled Tiller. "It was our first team title, and I knew that this one would feel great as well."
Oakton did not have a single runner finish in the top eight overall. But the Cougars placed four in the top 30. Junior Andrew McCullen, who two weeks ago finished third overall at the Northern Region championships, took ninth overall at states with a time of 15 minutes, 55 seconds. Oakton's second through fourth finishers, senior Neal Hendricks (17th overall, 16:13), junior Patrick Fulghum (20th, 16:17) and senior Chris Weil (26th, 16:29), each contributed mightily to Oakton's team title.
Other solid runs for the Cougars came from senior Karlan Cruz (39th place), senior Dante Morales (49th) and junior Matt Woodside (57th).
"I had a real good feeling when our No. 4 [Chris Weil] had an outstanding race today, and he just came across and had an enormous smile on his face," said Tiller. "He threw down the hammer, and I just had this feeling that we're going to get it done today."
Tiller, whose boys captured the region title at Burke Lake Park two weeks ago, had a terrific showing from top runner McCullen at states on Saturday.
"A lot of [our success] was Andrew," said Tiller. "He was one of the two [major injuries] last year. He was a phenomenal sophomore last year, and a real piece of the puzzle. He was one of the ones who was injured at the district meet last year, and we lost him for the entire year. … Our team crumbled when we lost him because when you lose it at the district and you're 13 days away from a state championship, you don't really have a lot of time to regroup and get moving."
The coach said McCullen worked hard to come back from his injuries this year. But it was not easy.
"He didn't start training again until June," said Tiller. "He was in the pool, he was on the bike. He was missing training and it was very, very difficult. He jogged around the sidelines with me last year [at states], watching this team take fourth, and I know he felt disappointed, angry, and he used that as motivation to come back to where he was."
<b>HENDRICKS</b>, Oakton's second best finisher at states and 11th overall, gave his team a great lift.
"He is one of our captains and was part of our real strong top two runners," said Tiller. "His leadership was there."
A year ago, Hendricks finished seventh overall at states as a junior. Tiller said Hendricks, who was sixth overall at regionals a few weeks ago, is a team-first competitor.
"It's tough when you go from being the guy that everyone assumes is going to be the best [on the team this year], so when you go into the summer of your senior year you feel like, `Maybe I should win. Maybe I should be second or third in the whole state.' And when things aren't going your way it's difficult, but he's put the team first," said Tiller.
Tiller is thrilled that Oakton was able to bring home another state crown.
"Two state titles in four years is really good, and last year I can't tell you how angry and disappointed we were to be in that situation [of not winning]," said Tiller. "We had such a good team and we really had some good results. Joe LoRusso [who was fifth at the 2007 state meet] was a captain of that team, and we had so much firepower up front."
Winning the state crown this season wipes away last year's disappointment of falling short at states.
"I think, the team can finally swallow that and say 2007 was 2007 and now it's over," said Tiller. "The ['07] state meet is gone and we can put the '08 on the side of the school and remember it forever."
<b>THE OAKTON GIRLS</b> finished fifth overall in their state AAA girls' championship race. The Cougars, who were second overall at the recent region championships, scored 153 points to land fifth at states. The girls' team champion was Midlothian High (72 points), which finished ahead of second place Maggie Walker Governor's School (126) of Richmond, third place Thomas Jefferson (126) and fourth place Ocean Lakes (146) of Virginia Beach. Finishing behind fifth place Oakton were fellow Northern Region teams Lake Braddock and Robinson, sixth and seventh place, respectively.
Oakton senior Becca Kassabian finished 16th overall to lead Oakton, while teammate Lanie Smith, a junior, was 18th.
<LST>Jason Mackey contributed to this story