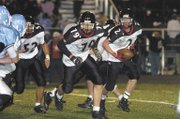 Madison football coach Gordon Leib summed up the season with a single phrase, "I felt we did tremendous."
The James Madison Warhawks finished third in the Liberty District, going 5-2 within the conference. The two losses came from Stone Bridge and Woodson, both of whom finished ahead of Madison.
The Warhawks' final defeat of the season came on Friday night when they faced the host Edison Eagles in a Northern Region Div. 5 semifinals playoff game. They trailed early, 28-0, and never recovered in a game where Edison was fully in command, resulting in a final score of 47-7. The Warhawks (7-5)=2 0capped off the season by reaching the Northern Region semifinals after winning a quarterfinals round game against Yorktow n two weeks ago, 28-7.
"Beating Yorktown was a high point in the season," Leib said. "Because we had lost to them earlier in the season, it felt good winning that game."
When asked about the expectations coming into next season, coach Leib responded, "We have high expectations. We're returning eight starters on both sides of the ball (offense and defense)."
Though 14 seniors are going to graduate this year, Leib believes Madison can have another successful season in 2009.
The team will part ways with starting quarterback Will Clarkson, running back standout Sasha Vandalov, offensive tackle Joe Bond and All-District offensive tackle Christian Underkoffler. On the defensive side of things, inside linebacker Mike Casey is set to leave but All-District Eric Leeson will be back to shore up the middle.
"We need to improve on both sides of the ball," Leib said. "On special teams we're good because we're returning an All-District punter and an excellent snapper."
One player to keep an eye out on for next season is sophomore Ryan McGuire. Leib said McGuire is "a big sophomore kid who's really played well this year."