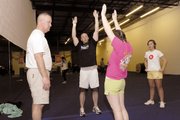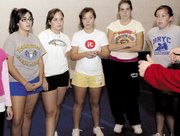 In the summer of 2007, Dwight Hunt and his family moved from New Jersey to Fairfax County. With a recreational cheerleading program available back home, aspiring cheerleaders from the New Jersey town of Rockaway were able to experience the sport at a relatively small cost.
When the family arrived here, Hunt's daughter had missed the tryouts for local all-star teams but was able to participate in the Braddock Road Youth Club's fall season.
However, a local winter program wasn't available. Twice a week, the Hunts had to drive their daughter to Chantilly to participate with the Chantilly Youth Association's Cheer Select squad.
This experience prompted Hunt to start his own recreational cheerleading program, branching off from the BRYC football cheerleading team. The new group provides a recreational-yet-competitive atmosphere and costs approximately $565 per year.
"In New Jersey, we had recreational cheer through our county recreation department," said Hunt, who's a lieutenant colonel in the U.S. Army. "I wanted to provide that same opportunity to the Braddock Road Youth Club cheerleaders. I wanted to provide them with an opportunity to explore what that commitment level is in regards to time, discipline and fitness."
The BRYC winter program runs from November to March, and most of the girls involved have cheered for some sort of football cheerleading organization. Girls are between 10 and 16 and live within the Robinson, Lake Braddock, Woodson, West Springfield and Fairfax high school pyramids.
<b>ON OF THE</b> biggest obstacles Hunt initially faced was finding a dedicated practice facility, but Hunt's team started practice for the first time this week, working out at Infinity Cheerleading in Falls Church.
Concerned about the purchases of cheerleading and tumbling equipment, Hunt contacted Infinity owner Brad Palmer. It was a match made in heaven. Infinity had a client who wanted to lease gym space, and BRYC has a first-class training facility and instructors.
"The coaches help explain what you have to do, and they help explain what your errors are and they help you get it right," said Marisol Heisley, 11. "I'm really bad at cart wheels and round-offs, and they helped me with those. But I'm getting better. I'm progressing."
The BRYC team will compete five times this winter season, traveling as far north as Baltimore and as far south as Fredericksburg. Hunt has tried to limit the travel time to an hour or so from home, and consequently, has limited parents' expenses.
To get the word out, Hunt spoke at several high schools to recruit potential members and spoke with BRYC football cheerleading commissioner Kim Metzger. Metzger has helped Hunt get the program off the ground and has even allowed the winter squad to rent the fall squad's uniforms.
Skill ranges vary on Hunt's team. Some girls are using the experience to determine whether or not they like and will stick with competitive cheerleading, while others have decided to use the BRYC experience as a springboard to a high school varsity team.
"My sister was a cheerleader in high school, so I was influenced a lot because of her, and I tried it and I loved it," said Mackenzie Kalnitzky, 13, who wants to cheer at W.T. Woodson when she gets there in the fall. "I like the aspect of working on a team, and I think it's getting me prepared for high school cheer."
"I thought it was better than winter cheerleading [at Robinson] because I'll get more experience tumbling-wise and more training," said Tess Tedrick, 16, who cheered for the Robinson freshman team this past season. "It was really inexpensive compared to all-stars. They started working on backhand springs and round-off backhand springs, which is a requirement for varsity at Robinson. So the sooner you have it down the better."