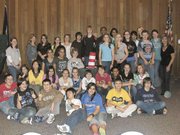 An elephant named Horton, a diva bird and an invisible planet of Whos — they're all part of Stone Middle School's musical, "Seussical Jr."
The cast and crew of 40 will perform Thursday, Dec. 4, at 3:15 p.m.; Friday, Dec. 5, at 7:30 p.m.; and Saturday, Dec. 6, at 3 p.m. Tickets are $5 at the door or during school lunches, Dec. 1-3; Thursday tickets, advance only. Call 703-631-5500 or e-mail emily.altadonna@fcps.edu.
"The kids are wonderful and they've worked hard," said Director Lois Walsh. "It's a complex production with layers of meaning, several music numbers and little dialogue. So to get the message across, we have to give proper attention to the music and choreography."
Walsh said the audience will be touched by "the genuineness and goodness of Horton's heart, and his vulnerability. His insistence to do the right thing, despite the odds, can be lonely. But in doing so, he teaches those around him [that] 'An elephant's faithful, 100 percent.'"
PLAYING HORTON is eighth-grader Alex Mann. "He's this sweet, but oblivious, elephant," said Alex. "He's really caring but, sometimes, not about things that matter. And he always holds his ground, even when people ridicule him."
In the play, Horton hears a Who — a tiny creature living on a dust speck that's his planet. Only Horton can hear him, because of his big ears. He thinks the Who needs help, so he carefully puts the dust speck on a clover and carries it to safety. But later, the Whos are in jeopardy.
"It's a huge thing for me to have a lead role," said Alex. "I'm used to playing sinister characters, and Horton's more innocent. But this experience will be good for me in future roles."
His favorite song is "Notice Me, Horton" and, said Alex, "It's a high point of the play for me." He says children will recognize the play's characters from their storybooks and it'll make adults recall their childhood."
Christy Beauchemin, 14, portrays Mayzie the bird. "She's the popular character, although mostly in her mind," said Christy. "She's self-centered, loud and obnoxious because she's so full of herself. She's tired of sitting on her egg and tricks Horton into doing it while she goes to Palm Beach. But she thinks she's a good person."
CHRISTY LIKES her role because "I have lots of attitude on stage. I'm not naturally mean, though, so I feel bad about being so mean on stage. But I like stepping out of my comfort zone, and it's fun being a villain. I get to over-emphasize everything."
Her favorite song is one she sings, "Amazing Mayzie," because "the dance moves are fun and it's "Latino-style music with attitude." Christy said the audience will like "how the play has a good meaning, but is silly, at the same time."
Playing Sour Kangaroo is Sarah Schweit, 14. "She's based on Aretha Franklin and goes through lots of mood swings," said Sarah. "She's not trying to be the 'bad guy,' but tries to do what's right, even if everyone else thinks it's wrong. I enjoy it because I get to reinvent myself and be a totally new person."
"Biggest Blame Fool" is her favorite song because "I get to show a part of my voice I don't usually show, and it's a fun song to act." She said children will enjoy the play's characters and "adults who grew up with Dr. Seuss will look back happily at their old memories of his books."
Jenny Cox, 13, portrays the Cat in the Hat, complete with red-and-white-striped chapeau. "As the narrator, I know ahead of time what's going to happen," she said. "I react to what the characters say and introduce the action."
Hardest, she said, is "dealing with the props and all the quick changes — especially my big hat." Jenny especially likes the song, "How Lucky You Are," and says the audience will enjoy how "fun, quirky and entertaining" the show is.
Playing Gertrude, the bird with just one tail feather, is seventh-grader Chelsey Bowles. "Gertrude takes pills to make her feathers grow so Horton will notice her," said Chelsey. "And she's the only one who believes him about the speck." She said Gertrude's tail is "really long, and it's hard to carry around backstage. But she's unique and I like playing someone nice."
She sings her favorite number, "All for You," to Horton: "I belt it out and Horton finally notices me." Chelsey says the audience will really like the show because "it's a colorful production, we have great choreographers and stage managers, and everybody gives 110 percent."