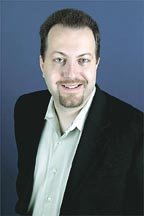 On Oct. 5, Fairfax resident Dave Sobel will be speaking at the SMB Nation Fall Conference in Seattle, Wash. His presentation will focus on how small to medium business professionals can make their companies virtualization-ready. Sobel, the CEO of Evolve Technologies, will also launch his first book at the conference, "Virtualization Defined: A Primer for the SMB Consultant."
<b>How long have you lived in the area?
</b>I've lived in Northern Virginia since 1997, having moved from Williamsburg after college.
<b>Family.
</b>I currently live in Fairfax with my wife Sharon, and our two cats Sadie and Trixie. My parents live in Suffolk, Va., and I have siblings spread out, in Leesburg; Centreville; Annapolis, Md.; Chesapeake Md.; and Los Angeles.
<b>Education
</b>I graduated from the College of William & Mary in 1997 with a B.S. in computer science.
<b>What was your first job?
</b>My first job ever was at a McDonald's in Severna Park, Md. I started as a front-line register worker and moved up to management. Here, I learned the deep value of process.
<b>Interests, hobbies.
</b>I'm a four-year season ticket holder with the Washington Nationals, and an avid fan. In fact, I love baseball so much, I write a baseball blog with friends [http://nats3play.blogspot.com] I love to travel and read, and since I'm something of an entertainment junkie, I catch as many movies as I can. My passion for the technology business also fuels a lot of my free time, as I actively work with peers and peer groups in my spare time.
<b>Favorite local restaurants.
</b>I love eating out and sampling great restaurants. Some of my local favorites are Sweetwater Tavern, 2941, Olives in D.C., and Grevey's. I also have a horrible soft spot for McDonald's.
<b>What local issue concerns you the most?
</b>I'm troubled by the transportation problem in the Northern Virginia area and the problem of commuting, coupled with the quality of life issue. Transportation and rising fuel costs are making it difficult for the economy to continue to grow and thrive, which diminishes business' capability to invest in staff development and grow the business base. I'm a big believer in public transportation, but we need to invest in solving the local transportation problem in order to continue our area's success.
<b>Describe your book.
</b>My first book is entitled "Virtualization: Defined. A Primer for the SMB Consultant." Virtualization is an emerging new technology that allows IT providers to deliver technology in a much more flexible and dynamic fashion. We can ensure that computing power is utilized most effectively, provides economical backup and disaster recovery solutions and greatly reduces IT costs going forward. There is a lot of "hype" around this technology area, but minimal guidance to the technology community serving small and medium sized business. My book outlines the practical applications of virtualization for the IT consultant serving this critical portion of the business community and those looking to build a virtualization practice and integrate this technology into their business.
<b>How important is virtualization?
</b>Virtualization is a proven technology that has been in existence since the 1960s on mainframes and has seen new practical applications in the Internet age. IT providers need to understand this critical technology and its impact on their service delivery. Ideally, a strong IT consultant will manage the complexity of the technology for business owners, who should be able to focus on growing their businesses and technology investment in a more organized and flexible way. Additionally, virtualization provides affordable solutions to problems like backup and disaster recovery, ensuring that business can survive any incident.
More like this story