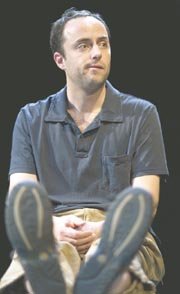 It's the eyes of Jason Lott that mesmerize during his performance of the new eighty-minute solo-show playing at the Theatre on the Run through Oct. 12.
At one moment during "This Perfect World" his eyes are as wide and round as spotlights. At another point in the monologue play they are drooping with fatigue. And at other times they dart about as a caged animal's would when looking for an avenue of escape.
Lott plays a former office worker in an obscure insurance firm on the shores of Lake Erie (where "the winters suck" and the summers - "well, they suck too.") His life has fallen apart, big time! He's out of a job, out of luck and seemingly on the verge of being out of his mind as well.
He tries to make sense of it all by telling the audience what has transpired in his life. But he keeps getting confused. Is it his life he's relating or his father's? Is it current events or ancient history? Is his sister right in insisting that he call his mother or has he not called because their mother died years ago?
The script is by Charter Theatre's Associate Artistic Director, Northern Virginia playwright Chris Stezin, who has a habit of producing thought provoking scripts dealing with thought processes. Often the plays feature many interesting characters. This play has a number of interesting characters as well but they are all either presented through the words of the stressed out former insurance man or they are the various aspects of his own personality which seems to be fracturing.
The resulting near-crash up is not always pleasant to witness but, like a car crash on the freeway, it is difficult not to watch. You may not spend too much energy actually trying to separate the pieces from the shamble of shards, but you will be compelled to pay attention from the opening line ("When I woke up this morning, Lake Erie was in my living room") to the last one ("When I woke up this morning, Lake Erie was in my living room").
The progress from that start to that finish isn't a linear progression. Indeed, to borrow another of the lines that Stezin puts in Lott's mouth, "Living is a straight line – Remembering is a kaleidoscope." This kaleidoscope of episodes from the character's life and family history is, appropriately enough, both intensely colorful (Stezin always has had a way with words) and presented from multiple angles. The same story fragments recur time and again but with a slightly different perspective each time.
The play begins even before you realize it as Lott walks into the small black-box theater where a few wooden platforms and panels form a sort of a set. The lights haven't even gone down yet and he's already telling the audience about Lake Erie and his living room. Slowly the house lights dim while those illuminating the stage come up and the audience finds itself pulled into the confusing world of the character's mind.
There is humor and drama throughout the short evening as, in the hands of Jason Lott, the work of Chris Stezin comes alive.
<i>Brad Hathaway reviews theater in Virginia, Washington and Maryland as well as Broadway, and edits Potomac Stages, a Web site covering theater in the region (<a href=http://www.PotomacStages.com> www.PotomacStages.com</a>). He can be reached at<a href=mailto: Brad@PotomacStages.com> Brad@PotomacStages.com</a>.</i>