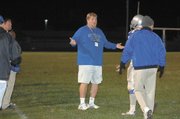 It wasn't until he stepped foot inside an Atlantic City showroom that T.C. Williams football coach Dennis Randolph realized he was in the middle of a revolution.
With wins and losses becoming more important than ever amidst the growing commercialization of high school football and his Titans coming off a 4-6 season, Randolph had decided to switch from the offense he had been running during his 18 years as a coach in the Northern Region.
He had heard the growing buzz surrounding an offense known simply as "The System Seminars", a scheme created and marketed for profit by current Auburn offensive coordinator Tony Franklin, and Randolph decided to become one of the converts. Thus the trip to Atlantic City for the coaching seminar.
It turned out he wasn't alone.
When Randolph arrived, he was surprised to see the coaching staffs of neighboring schools, Bishop Ireton and West Potomac, in addition to countless other staffs there as well, ready to soak in whatever they could.
That Randolph and two other area coaches were even there is a stark reminder of how the high school football landscape is changing.
There is much debate about the "The System Seminars." Some call it a prime example of what's wrong with high school sports these days. Others characterize it as simply a better and more uniform way of communicating within an offensive set. But everyone agrees on one thing: "The System" is unlike anything seen in high school football before.
"People have been going to clinics for years," Randolph said. "But picking up an entire offense, that's new. It's revolutionary … Everyone is running the system."
<b>ON ITS WEBSITE</b>, "The System Seminars" are described as "not a clinic for those coaches who want to pay $75 to leave town, drink beer and chase women all weekend." Instead for approximately $3,000 dollars, coaches can become clients of Tony Franklin, a package that includes instructional DVDs, playbooks, power point capabilities, and wristbands.
Membership in the Tony Franklin system also entitles coaches to various clinics, which the coach holds in Dallas, Houston, Los Angeles, Nashville, and Atlantic City throughout the year, as well as weekly conference calls with Franklin and an 800 number if any kinks should arise during the season.
More than 350 high schools around the country now run a variation of Tony Franklin's system, which changed its name to "The System Seminars" from "The Tony Franklin System" because South Eastern Conference rules prohibit coaches from participating in football camps or clinics off campus.
A USA Today article about Franklin in 2006 estimated he made more than $170,000 a year off the offensive system turned consulting business.
The offense, which is a variation of the spread and is predicated on keeping defenses off balance by raising tempo, has grown significantly in popularity because of the way it simplifies things for high school football players. While in many traditional offenses, only the quarterback wears a wristband featuring various play calls, The System revolves around every player on the field having a wristband.
"You could put any offense in this guy's wristband system and it would work because now you can ratchet up tempo and you can get things going that you wouldn't ordinarily be able to do by just having kids memorize (plays)," said West Potomac coach Eric Henderson, whose Wolverines have lost just one game this season and have flourished on offense behind the play of quarterback Cole Walter and wide receiver Kristian Rodriguez. Through six games West Potomac has averaged more than 28 points per contest. Henderson estimated approximately 60 percent of his playbook is consistent with Franklin's scheme, but said that was the case even before he attended the clinic this summer.
"We think for our kids, it's perfect. They don't have to remember a darn thing and they just go out and execute."
<b>FRANKLIN BEGAN MARKETING</b> his system earlier this decade after a stint as the offensive coordinator at Kentucky, where his system transformed quarterback Tim Couch to a No. 1 pick in the 1999 NFL Draft after being an overlooked high school recruit four years earlier.
For six years after his Kentucky gig, Franklin served as a consultant for various high schools around the country, most notably the national football power Hoover High School of Alabama, which was featured on the MTV show, "Two- A-Days".
In 2006, Franklin was hired by Troy University and promptly helped the school to its first bowl win ever. Before Auburn faced off against Clemson in last year's Chick Fil-A Bowl, coach Tommy Tuberville hired Franklin to be his offensive coordinator. According to reports, the offensive guru was able to implement his system with just eight days of practice, helping lead Auburn to a 23-20 win.
The easy implementation process and the resource of having a number to call should any problems arise was what made the clinic attractive to Randolph when he first started looking into his Atlantic City trip.
"The main reason I went to it was because of my coaches," said Randolph, whose team is off to a 1-5 start this season, struggling to find consistency in the new offense. "If there's a question now, they come and ask me and I say 'Look, call Tony up and see what the deal is.' And we've done that on a number of occasions now, coaches arguing where you run here and where you run there, and I just say 'Hey, call the system to find out if you're right.' They have some ownership now in the program."
<b>FOR ALL ITS SUCCESS ON THE HIGH SCHOOL LEVEL</b>, there are plenty of coaches that see Tony Franklin and his cookie cutter offense as a negative for high school sports. Most of the time, high school booster clubs pay for their coaches to attend these clinics. Some have questioned whether this is fair, especially for public schools in less affluent areas that could never dream of using money to learn an offense.
"It's a legitimate question," Franklin told USA Today in 2006. "It's just a matter of how you want to spend your money. … What I sell is an entire system, including middle school. I guarantee their money back if they're not satisfied."
It seems, though, the offense may have reach its plateau — at least on the college level. Auburn has struggled offensively during Franklin's first full season this year, averaging less than 13 points per contest in four SEC games thus far. Franklin was fired by Auburn last Wednesday as a result.
Many college coaches have criticized Franklin's offense as being just "football in a box" with no imagination or adjustments according to a team's personnel. Combined with the fact that any coach can go on the Internet and, for a price, purchase all the nuances of an opposing offense, even proponents of this new wave scheme can't help but wonder if the system is worth it.
"You feel like the purpose of a football coach is to go out and find the information and finding the information that works for your kids," Henderson said. "This is just, you buy it, it's a formula, here you go."