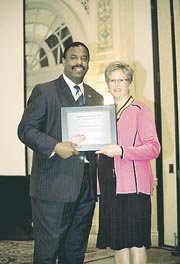 <lst>Send announcements or events, which are open to the public at no or minimal cost, to The Loudoun Connection, 7913 Westpark Drive, McLean, VA 22102 or e-mail loudoun@connectionnewspapers.com. Deadline is Friday, two weeks before the event. Photos/artwork encouraged. For more information, call 703-917-6454.
The Committee for Dulles luncheon, Thursday, Oct. 16, features Christopher T. Hess, area port director, U.S. Customs and Border Protection, discussing customs and border protection at Washington Dulles International Airport. Luncheon takes place at the Holiday Inn, 1000 Sully Road, Dulles, reception at 11:30 a.m., lunch served at noon, board of directors meeting at 10:30 a.m. Reservations required by the Monday prior, nonmembers in advance $55, at the door $60; CFD members in advance $45, at the door $50. Call the CFD office 703-430-8749.
All local area vendors are invited to attend Loudoun County Procurement's 2008 buyer/seller information exchange sessions. These sessions are to provide information on the county's procurement processes and upcoming contracts. The sessions will take place Monday, Oct. 20, at 10:30 a.m.; Thursday, Nov. 20, at 2 p.m.; Thursday, Dec. 18, at 2 p.m. For locations call 703-777-0403 or send an e-mail to Rebecca Kummel at procurement@loudoun.gov.
Danajill Designs of Potomac Falls, Drum Daniel of Sterling, Dulles Sportsplex of Sterling and Youthsalons.com of Sterling will be among the more than 100 exhibitors at the Great Kids Expo at the Dulles Expo Center, Oct. 25-26.
The Loudoun County Chamber of Commerce named the 34 finalists selected to compete in nine business categories for the 2008 Small Business Awards. The winners in each of nine categories will be announced at the Annual Gala Awards dinner Nov. 6, at the National Conference Center. Visit www.loudounchamber.org/CWT/External/WCPages/WCNews/NewsArticleDisplay.aspx?ArticleID=30 to see the finalists.
BMW of Sterling will be taking part in the 2008 BMW Ultimate Drive, Wednesday, Nov. 12, from 9 a.m.-4 p.m. During the event 25 vehicles will be available for test drives and for every mile driven, BMW will donate $1 to Susan G. Komen for the Cure. BMW of Sterling is located at 21826 Pacific Blvd. Call 571-434-1944 for more information.
Hooked, located in the Great Falls Plaza, Sterling, has been named the best seafood restaurant in the Washington, D.C.-metropolitan area by OpenTable.com's Diner's Choice Awards.
Virginia National Guard honored the Dulles Hotel Connection along with several other companies at its C/3/116th Freedom Salute for contributions made to support the soldiers attached to the Leesburg Armory that are serving in Iraq. The Dulles Hotel Connection, located in Dulles, is comprised of eight hotels and the Executive Conference & Training Center.
The inaugural Housekeeping Olympic Games, hosted by the team from Holiday Inn Washington Dulles Airport Hotel, featured housekeepers from 14 Washington, D.C.-area hotels and showcased events with a housekeeping theme. Teams competed in three "sports," which included toilet seat basketball, bed making race and the housekeeper obstacle course.
Competing teams included Hampton Inn Cascades, TownePlace Suites & SpringHill Suites by Marriott Dulles Airport, Best Western Dulles Airport and Hampton Inn & Suites Dulles Airport.