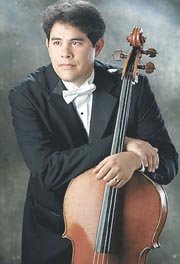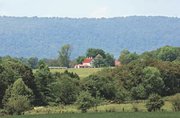 <lst>Send events, which are open to the public at no or minimal cost, to The Loudoun Connection, 7913 Westpark Drive, McLean, VA 22102 or e-mail loudoun@connectionnewspapers.com. Deadline is Friday, two weeks before the event. Photos/artwork encouraged. For more information, call 703-917-6454; for additional listings, visit www.connectionnewspapers.com.
The Loudoun Campus of Northern Virginia Community College will host an exhibit of mixed media prints and drawings by Elzbieta Sikorska of Silver Spring, Md., through Oct. 17, in Waddell Art Gallery. The exhibit is free and open to the public. The campus is located at 1000 Harry Flood Byrd Highway in Sterling and the gallery is open 9 a.m.-7 p.m., Mondays-Fridays.
The Loudoun Symphonic Winds, under the direction of principle conductor, Gil Corella, present the opening concert of the 2008-09 season, "Folk Songs from Around the World," Saturday, Oct. 18, at Loudoun Valley High School, 340 North Maple Ave., Purcellville, 7:30 p.m. No tickets are required. A donation of $5 per person or $10 per family is requested at the door. Visit www.lcbandinc.org or call 703-777-7985.
Dominion High School will be presenting "Little Women," Oct. 23-25, at 7:30 p.m. and Sunday, Oct. 26, at 3 p.m., at the school, 21326 Augusta Drive, Sterling. Based on Louisa May Alcott's novel about a family of women who experience the challenges of coming of age in Civil War-era New England. Tickets are $7.
The Chorus of the Old Dominion is recruiting male singers for its Holiday Chorus, which performs at holiday-season events countywide. The first chorus rehearsals are 7:30 p.m., at United Methodist Church in Leesburg, Thursday Oct. 23 and Wednesday, Oct. 29. Audio learning tracks are posted on the group's Web site, www.odchorus.org. Contact Dick Smull, 540-338-1201 or e-mail info@odchorus.org.
The Loudoun Symphony opens its 2008-09 season Saturday, Oct. 25, 8 p.m., at Stone Bridge High School in Ashburn and Sunday, Oct. 26, 3 p.m., at Loudoun Valley High School in Purcellville. Featuring the Dvorak Cello Concerto with world-class cellist Stephen Framil and Brahms' Fourth Symphony.
Concertgoers on Saturday evening can attend the free preconcert lecture given by Mark Allen McCoy, music director and conductor and a string workshop performance conducted by Dr. Yeong Su Kim, at 7 p.m.
Free tickets to all concerts for youth 18 and under. Visit www.loudounsymphony.org for ticket information.
Artwork made by Loudoun County Public Schools art teachers is on display at George Washington University, 20101 Academic Way, Ashburn, Gallery Lounge, room 121, through Oct. 29. A reception will be held Thursday, Oct. 16, 6:30-8:30 p.m. The exhibit and reception are free and open to the public. Call 703-726-3650 or e-mail reservations@va.gwu.edu.
Jim Hanna's photography exhibit, "Rural Culture on the Edge," on display at the Loudoun County Government Center in Leesburg through Oct. 31, offers a sampling of images depicting Loudoun's precious rural ecology and heritage. The exhibit also offers a glimpse into such efforts as ecological stewardship, historic preservation and restoration, and sustaining a rural economy.
The exhibit is on the first floor in Gallery One and is open to the public during business hours of the government center.
Twelve artists at King Street Studios in Leesburg will host "Seven," a special exhibit in honor of its seventh anniversary. The exhibit runs through October.
Studio visitors will notice a theme of seven as they view paintings and drawings by artists Trisha Adams, Martha Cammack, Roberta Comrie, Becky Fleming, Lynn Kanen, Ann Noel, Libby Stevens, Rick Steinberger, Earl Tester, Dana Thompson, Virginia Treviranus and Dan Williams. The exhibit will be on display in both upstairs and downstairs studios at the gallery at 222 South King St. in historic Leesburg. Contact King Street Studios/Gallery 222 at 703-777-5498.
Jim Hanna's photography exhibit, "North by Northwest," in Gallery 222, at 222 South King St. in Leesburg. This special exhibit, on display through Nov. 1, showcases a series of rural Loudoun scenes. Gallery 222 is open Mondays-Saturdays, from 10 a.m.-5 p.m. and by appointment. Visit www.gallery222.com or call 703-777-5498.
Photographs by Northern Virginia photographer Lillis Werder are on exhibit at Washington Dulles International Airport through December. Two series of work by the artist, "Washington, D.C. War Memorials," in honor of the upcoming Veteran's holiday, and "Venice, Italy," are on display.
The exhibit, coordinated by Gallery 222 and the Washington Metropolitan Airport Authority, is the fifth in the program's rotating series of displays. The photographs are installed in the area beyond the security checkpoints in the main terminal on the arrivals level.
Alfred McAdams' exhibit, "D.C. Metro," is on display at the George Washington Virginia Campus First Floor Gallery through Dec. 30. The First Floor Gallery is located in Building 2 on the GW Virginia Campus, 44983 Knoll Square, Ashburn. Free and open to the public. Call 703-726-3650.