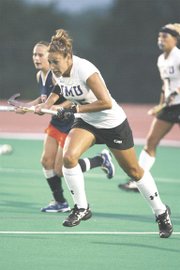 When Jenny Eakin played field hockey at Lake Braddock, defense was never an option. With a body build befitting that of a sprinter and athleticism oozing from her 5-foot-9 frame, Eakin was counted upon to score goals, not
defend them.
It's not as if she was unwilling to do so, but on one of coach Diane Miller's most successful teams, there was simply no need.
Once Eakin, who won three Patriot District titles with the Bruins as a forward, accepted an offer to play field hockey at sixth-ranked James Madison University, defense became more of reality than just a playful threat from Miller.
Eakin spent her first year in Harrisonburg adjusting to the college game, which is played on turf, not grass. When a starting position presented itself prior to her sophomore year, it didn't require the goal-scoring prowess Eakin had developed in high school.
"The fact that I have been playing sports for so long, I have a good field sense and I do things aggressively," Eakin said of her transition. "I do miss [offense] sometimes, but I love watching my teammates up front. They're so skilled and so talented."
<b>WHETHER IT'S MEANT</b> switching from offense to defense or the wholesale change of sports like she pulled off in high school, the Burke native hasn't wavered with her dedication to academics and her love of children.
In the eighth grade, Eakin remembers attending a field hockey camp and hearing about Miller's reputation as someone who could "turn athletes into field hockey players." Eakin liked the fact that field hockey happened in the fall, providing her with something to do and a way to stay in shape for soccer or track and field.
Eakin was a sprinter for longtime track and field coach Bob Digby, running during both the winter indoor season and outdoor season every spring.
"Jenny had incredible speed," Miller said. "When she got a hold of the ball, there were not many people that could catch her because she's tall and has very long legs."
Field hockey continued to grow on Eakin and soon college coaches were courting her. Antoinette Lucas, the head coach at James Madison, came to see Eakin and offered her a spot. The soon-to-be Duke didn't hesitate and spent her senior year relaxed, not having to worry about applications and essays.
Although Eakin experienced an adjustment period on field, that was not the case in the classroom. As a freshman, she won the Colonial Athletic Association Commissioner's Academic Award, an honor she'd enjoy again as a sophomore and a junior.
<b>EAKIN EARNED</b> that starting defensive spot eight games into her sophomore year and played an integral role the rest of the way through a 15-8 season. In 2007, with Eakin again feeling defensive, the Dukes finished 19-4 — the second-best mark in school history.
In addition to James Madison's on-field success, Eakin set her own personal-best mark this past spring with a 4.0 GPA, joining yet another team, the school's President's List.
"My education is extremely important to me," said Eakin, an elementary education major who plans on staying for a fifth year to pick up her master's degree. She currently volunteers with the City of Fairfax's Summer Playground program. "You don't have a lot of time during the season, so you have to schedule everything to make sure that you fit all the important things."