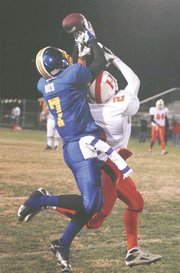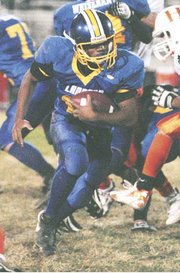 Three weeks ago, Lee squandered a 10-point lead in the fourth quarter at South County and lost, 27-23. That South County loss succeeded a double-overtime loss to West Potomac and preceded a shutout defeat to Lake Braddock.
Couple those three slip-ups with last week's 42-19 loss at Annandale, and the Lancer football team's optimism had tapered off significantly since a 23-10 win over Centreville on Sept. 12.
But with Friday's 24-7 homecoming win over Hayfield, the Lancers delivered a performance unlike any over the past four weeks.
"It was good to get a win just to get us back on the right track," said Lee coach Rob Everett, whose team improved to 2-6 overall, 1-4 in the Patriot District. "That was the biggest thing, we needed this win just to get our minds right."
After Lee failed to gain a first down on its first drive of the game, Hayfield junior Anton McCallum scampered 47 yards on an option play to give the Hawks (1-7, 0-5 Patriot) an early 7-0 lead.
On the ensuing possession, the Lancers turned the ball over on downs and junior quarterback Greg Lopez later missed on an option pitch that led to a turnover on Lee's third possession.
<b>BUT LEE'S DEFENSE</b> tightened, holding Hayfield without another first down until the fourth quarter and junior workhorse Jazmier Williams began to break loose.
With 10 minutes, 47 seconds left in the second quarter, Lee rattled off a 12-play, 80-yard drive that consumed nearly six minutes to tie the score. Williams, who carried 34 times for 212 yards and three touchdowns, capped the drive with a 4-yard run.
"We all had faith in the team," said Williams, who has rushed for 1,071 yards and 10 touchdowns this season. "We all said we were going to play together and we stuck to it."
On a key offensive play to start the fourth quarter, Lee lined up for a fourth-and-one situation at its own 49-yard line. His team within an earshot, Everett emphasized the importance of converting this particular opportunity.
In the previous four games, Lee had its share of troubles finishing off opponents and thriving in situations such as this one, but on homecoming, the Lancers certainly did not.
Williams rumbled for a 2-yard gain and added a 49-yard scoring run on the following play.
The opportunity, finally, was seized.
"Going into the locker room, everybody was happy because we were up by three, but I was trying to tell them that we can't give up," said Lopez, who completed four of six passes for 64 yards. "We had to stay strong and we couldn't let down because we were up at halftime."