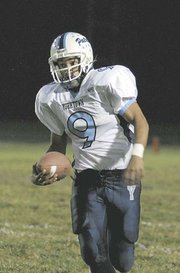 Yorktown football coach Bruce Hanson knows all too well how devastating just missing out on a Northern Region playoff spot can be. Three years ago, Hanson's Patriot squad finished the 2005 season with a solid 7-3 record, yet was on the outside looking in come postseason time.
This year, though, things are much different for Hanson's squad even as it sits at 5-3 while it tries to match its 2005 record following a close 21-14 win over Wakefield last Friday night.
Last year the VHSL made the decision to expand both the Division 5 and Division 6 Northern Region playoffs to include eight teams, rather than the four that could make it previously. So even if Yorktown doesn't win its last two games of the season against Mount Vernon and Washington-Lee, it will still likely be playing football into November.
"Two years ago, we'd be fighting for a playoff spot," Hanson said. "Now, I think we've made the playoffs and we're just fighting for a seed."
According to the VHSL power point system (a mathematical formula based strength of schedule and win-loss record that is similar to the BCS rankings in college football) Yorktown is currently ranked fourth in Division 5, meaning as of this week it would have a first-round home playoff game.
But with upcoming games against much-improved Mount Vernon (currently No. 3 in power points) and underrated Washington-Lee (No. 6 in power points), playoff positioning is anything but guaranteed.
Heading into last Friday's game, Yorktown had lost its two prior contests after starting the season 4-1. Wakefield didn't make things much easier on the Patriots, either.
The Warriors were literally one-yard from pulling off an improbable upset over Yorktown, who has dominated its neighborhood rival as of late. With just five minutes remaining in the fourth quarter and the Patriots clinging to a seven-point lead, Wakefield quarterback Andre Allen was ruled to have fumbled as he reached over the goal line for the potential tying score.
Wakefield, playing in front of a boisterous homecoming crowd, had jumped out to an early 7-0 lead thanks to a 45-yard touchdown run by Isaiah Cruz. But Yorktown responded with 21 unanswered points, courtesy of senior tandem Jared Smith and Kyle Toulouse.
Smith scored the Patriots first touchdown on a 13-yard run early in the second quarter, while Toulouse gave Yorktown its first lead four minutes before halftime on a six-yard touchdown scamper. Toulouse closed the half with a 36-yard touchdown pass to junior Mike Veith to give Yorktown a 21-7 lead.
Wakefield wouldn't die easy, though, closing the gap to 21-14 after running back Romeo Goffney scored early in the fourth quarter. That set up the late-game dramatics that Yorktown barely escaped from victorious.
"We're lucky to be 5-3, but we're 5-3 and that's the bottom line," Hanson said. "The game certainly could have gone either way. They actually out gained us a little bit. In reality, it could have gone either way, so we were lucky to come out on top."
The Patriots head home to take on Mount Vernon (6-2) this Friday at 7:30.
<b>THE LOSS</b> doesn't mean the playoffs are completely out of the equation for Wakefield (2-6. The Warriors currently sit in 10th place in power points, just behind Lee and Jefferson (a team Wakefield defeated 37-10 earlier this season) for that coveted eighth and final playoff spot. With a winnable game against Stuart next week, the Warriors could sneak into the playoffs with a strong finish.