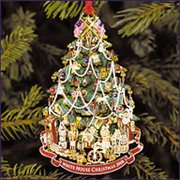 Great Falls Woman's Club is selling this year's White House Christmas Ornament as a fund-raiser for the Fairfax Women's and Children's Shelter.
This year's ornament honors the administration of President Benjamin Harrison (1833-1901), the 23rd president of the U.S. Serving one term from 1889 to 1893, Harrison was a centennial president inaugurated 100 years after George Washington. Inspired by the Harrison family's Victorian Christmas tree, this 24- karat gold finished ornament interprets the first recorded tree to decorate the White House. The tree, laden with baubles and garland, is a canvas for all sorts of treats and toys. Beneath the tree are the presents the Harrison grandchildren received: a toy train and a wooden sled await Benjamin, Mary's rosy-cheeked doll sits on a tricycle, and nearby is Marthena's much wished for dollhouse. A three-foot-high Santa Claus completes the season's spectacle.
Great Falls Woman's Club is taking orders for the ornament right now. They cost $18 each and all of the proceeds benefit the Fairfax County Women's and Children's Shelter.
To place an order, call Jane at 571-239-0011. Ornaments can also be purchased at Sandy Allison Jewelry, Great Falls Center.
More like this story