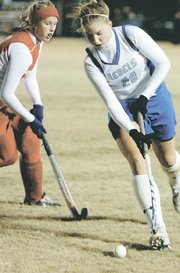 Tucked between two pieces of pink paper and bound together with a staple, the evidence was there. It stated that the Fairfax field hockey team had all of the necessary pieces to become an elite, unbeatable machine.
With four first-team, All-District performers, as well as the Concorde District's Coach (Amber Beaudoin) and Player (Lisa Charney) of the Year, the Northern Region tournament program was loaded with evidence of the respect that Fairfax has gained this season.
But after a 2-1 overtime loss to Annandale on Tuesday in the first round of the region tournament, those previous accomplishments have been forgotten and replaced with tears and sunken shoulders.
"They tried to leave it all on the field, but we had our chances and we just didn't put them in," said Beaudoin, whose team wrapped up this year with a 16-4 record. "It's a lesson, a hard lesson … but a lesson."
By winning all six games against Concorde District competition during the regular season, Fairfax earned the top seed for the postseason tournament. Though Beaudoin and Co. would eventually suffer a 2-1 overtime loss to Chantilly in the semifinal round, the statement was already: Fairfax, finally, is for real.
As Beaudoin's only four-year letter-winner, senior midfielder Shelby Storosh was one of those tabbed as a first team, All-District pick. Storosh had witnessed opposing teams not taking her team seriously enough, and, with a nine-goal, seven-assist performance this season, she did something about it.
"To say we went 6-0 in our district and that we made it all the way to regionals, it's great being able to say that," said Storosh, who'll play field hockey at American University next fall. "It's great to wear our jerseys proud."
<b>AGAINST ANNANDALE</b>, Fairfax was able to answer an early Atom goal when, only 55 seconds later, Charney's back-hand shot found the rear of the cage with 15 minutes 21 seconds remaining in the opening half.
In the second half, Fairfax senior goalkeeper Kathleen So made several spectacular saves to keep the Rebels' hopes alive, but perhaps the best came when the teams entered overtime.
As Annandale's Tanya Bellingham carried a pass into the offensive zone, So was left with little defensive help. Still, she was able to get her left pad in front of the shot.
Annandale's Maggie Bermingham scored the game-winning goal at 9:51 of overtime on a shot that popped up and over So.
Though Fairfax forced 10 penalty corners compared with only five for Annandale, the Atoms outshot the Rebels, 10-5.
"We played really great hockey all year, and we have, I think, the best two players in the region [Charney and Storosh], but we didn't really play the best team hockey and that's what it comes down to," said Beaudoin, who's been the head coach at Fairfax since 2001. "It's a team game. It's not an individual game."
With the district semifinal loss to Chantilly, Fairfax was forced to wait seven days before its next game, which was yet another contributing factor to Tuesday's uneven performance, according to Beaudoin.
But a heartbreaking loss will soon be forgotten, tossed aside with the tournament program and all of the individual accolades inside. Thanks to Charney (team-high 16 goals this season), Storosh and the rest of the Rebels' senior class, the Fairfax field hockey program should be well positioned for years to come.
"At the beginning of the season, no one respected us," Storosh said. "But after winning six straight games in our district, and with us putting up a battle and coming as far as we've come, we've made a name for ourselves."