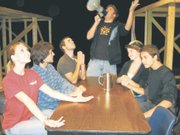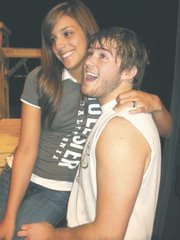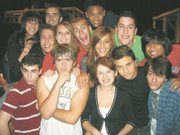 Drama director Glen Hochkeppel chose the screwball comedy by Kaufman and Hart, "You Can't Take It With You," as Stone Bridge High School's fall production because he had a strong crop of comedians who could pull it off. "You need a group of people who are not afraid to go over the top in their characterizations," he said of his cast of 19. "With a small cast, you're able to just do the fun part and that is to work with the actors and be inventive with them."
The play will be performed Nov. 13-15, at 7:30 p.m., in Stone Bridge's auditorium, 43100 Hay Road, Ashburn.
And judging by the slapstick energy coming out of the rehearsals, he's made the right choice.
THE PLAY centers on the Vandefhof family that lives in a Victorian brownstone, and who under the protective cover of "Grandpa," are encouraged to follow their eccentric hearts. Daughter Alice invites the upper-crust Kirby clan (her fiancé's family) over for dinner, and that's when the fireworks begin to fly — literally.
Hochkeppel, who is in his ninth year at Stone Bridge, said the challenge was making the Victorian Brownstone as eccentric as the family that lives in it. "We're building spinning book cases and trapped doors, elevators and hidden compartments," he said.
Jason Francis plays Martin Vandefhof who decides to quit going to work after 35 years. Martin's granddaughter falls in love with a rich boy and their worlds collide when his family is invited over for dinner. "You've got the optimistic, free-willed family going against the family from the normal side of society. There's a bit of a clash," he said. His challenge is playing an aging grandfather using the right voice and mannerisms.
Ben Palmer plays Tony Kirby, the son of a rich Wall Street businessman who falls in love with Alice. "He's very carefree about life, but the hardest part for Tony is getting his family to understand him because they are very uptight, uptown New Yorkers."
Sammie Teran plays the role of Alice, the most normal member of the family. "When she meets Tony, she's trying to keep her cool throughout the whole night, making sure everything goes off well," she said.
Meghann Parkinson plays Alice's mother, Penny Sycamore, who wants the best for her daughter and family. Using a "Fargo," upstate New York accent, she said "All I had to say was 'steak and potatoes,' and everyone loved it." She added, "The most fun part of playing this character is I can let loose with sweetness and happiness and be unaware of anything bad."
Austen Willis is the assistant director who plays Tony's mother, a straight-laced society woman who is opposed to the engagement of her son. "I'm almost Stepford-ish." she says. "I'm trying to put on a good face." She said she also loves having the responsibility of being assistant director.
Abigail York plays the sassy Mexican maid, Rheba, a character with a spicy personality and "a lot of flavor in her." She has a relationship with the awkward Donald, who when they're together "is like Quasimoto and Esmerelda."
MEGHAN SLUPE plays Essie, Alice's older sister, who has been training with a Russian ballet teacher for eight years. "She's horrible ... but I act like I'm the best [dancer] anyway." Goofy and optimistic on the side, she makes candy called "Love Dreams."
Eric DeLong plays Borris Kolenkhov, the jolly Russian ballet instructor. "He left Russia after the Russian Revolution and came to America with the Grand Duchess and Czar. "He's very serious about ballet," he said.
Max Fieldhage plays Ed Carmichael, the husband of Essie, a character that plays weird instruments and runs a printing press. "He's really into communist leaflets," he said.
Daniel Fissmer plays Donald the boyfriend of the spicy Latina babe who "might sniff your hair or something. He's basically the idiot .… Everyone likes him but nobody knows what to do with him."
Nick Gagliano plays Paul Sycamore, father of Alice and husband of Penny, who has a passion for making fireworks in the basement. He plays with toys and builds erector sets in his spare time. "I love explosions and things that go boom," he added.
Jared Kopciak plays Mr. DePinna, the assistant to Paul Sycamore who builds fireworks in the basement. "He's the Kramer of the bunch. It's really just fun working with all these people."
Ricky Doggett plays Henderson, an IRS agent who comes to the house to collect money because Mr. Vandefhof hasn't paid an income tax in 24 years. He describes his character as "very nerdy but serious at the same time. He doesn't cooperate and I get really flustered and I run out of the house screaming."
Sam Renzi, Julian Fadullon and Ryan Daliagon play the tough G-Men. Said Julian, "These are my two slaves. I have to say 'shut up.'" Added Ryan, "I'm the rookie of the three and I have to maintain my cool because I'm a rough G-Man."