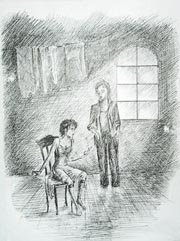 Send announcements or events, which are open to the public at no or minimal cost, to The Loudoun Connection, 7913 Westpark Drive, McLean, VA 22102 or e-mail <a href="mailto:loudoun@connectionnewspapers.com">loudoun@connectionnewspapers.com</a>. Deadline is Friday, two weeks before the event. Photos/artwork encouraged. For more information, call 703-917-6454.
The Chorus of the Old Dominion is recruiting male singers for its Holiday Chorus, which performs at holiday-season events countywide. The chorus rehearsal is 7:30 p.m., at United Methodist Church in Leesburg, Wednesday, Oct. 29. Audio learning tracks are posted on the group's Web site, www.odchorus.org. Contact Dick Smull, 540-338-1201 or e-mail info@odchorus.org.
Artwork made by Loudoun County Public Schools art teachers is on display at George Washington University, 20101 Academic Way, Ashburn, Gallery Lounge, room 121, through Oct. 29. Call 703-726-3650 or e-mail reservations@va.gwu.edu.
Jim Hanna's photography exhibit, "Rural Culture on the Edge," on display at the Loudoun County Government Center in Leesburg through Oct. 31, offers a sampling of images depicting Loudoun's precious rural ecology and heritage. The exhibit also offers a glimpse into such efforts as ecological stewardship, historic preservation and restoration, and sustaining a rural economy.
The exhibit is on the first floor in Gallery One and is open to the public during business hours of the government center.
CCT with 2nd Flight Theatre Company presents "The Elephant Man," written by Bernard Pomerance and directed by Natalie V. Safley. Performances are Nov. 1, 2, 7, 8; Fridays and Saturdays at 8 p.m. and Sundays at 7 p.m., Waddell Theatre, Northern Virginia Community College Loudoun Campus, 1000 Harry Byrd Highway, Sterling. Tickets available online at www.CCT2FT.com or at the door with cash/check. Cost: $15 general admission, $10 students and seniors.
The drama department of Potomac Falls High School is performing its fall play, "A Tale of Nine Princesses," Thursday-Saturday, Nov. 6-8, 7:30 p.m. and Sunday, Nov. 9, 2 p.m., in the auditorium at 46400 Algonkian Parkway, Sterling. Tickets $5 at door.
Loudoun native, Katie Schnable presents Raise A Voice-Orphans Expressing Themselves Through Art, a charity art show showcasing original works by orphans of Russia, Nov. 7, at Lightfoot Restaurant, 6-10 p.m. Includes complimentary food and live music. All proceeds go to the children. Silent auction starts at 6 p.m.
"Encaustic Painting," a special exhibit of artwork accomplished using ancient techniques by Karen Eide opens Nov. 7, at Gallery 222 in the little gallery and runs through the month. Gallery 222, 222 South King St., Leesburg, is open Mondays-Saturdays, from 10 a.m.-5 p.m. and by appointment.
The Pickwick Players present "The Sound of Music" Fridays, Nov. 7 and 14, 7:30 p.m., and Saturdays, Nov. 8 and 15, 2 p.m. and 7:30 p.m., at River Bend Middle School, 46240 Algonkian Parkway, Sterling. Cost: in advance adults $10, child/senior $8; at door adults $11, child/senior $9.
Special family rate of $45. Nov. 8. 2 p.m. Call 540-454-6320, e-mail pickwickplayers@mail.com or visit thepickwickplayers.org.
"Transitions," Antonia Walker's solo exhibit of original paintings opens Friday, Nov. 7, at Gallery 222 during Leesburg's First Friday Gallery Walk, from 6-9 p.m. The exhibit continues through Nov. 29. Refreshments will be available during the opening reception. Gallery 222, 222 South King St., Leesburg, is open Mondays-Saturdays, from 10 a.m.-5 p.m. and by appointment.
Twelve artists at King Street Studios in Leesburg will host "Seven," a special exhibit in honor of its seventh anniversary. The exhibit runs through October.
Studio visitors will notice a theme of seven as they view paintings and drawings by artists Trisha Adams, Martha Cammack, Roberta Comrie, Becky Fleming, Lynn Kanen, Ann Noel, Libby Stevens, Rick Steinberger, Earl Tester, Dana Thompson, Virginia Treviranus and Dan Williams. The exhibit will be on display in both upstairs and downstairs studios at the gallery at 222 South King St. in historic Leesburg. Contact King Street Studios/Gallery 222 at 703-777-5498.
Art on Exhibit throughout November and December at local libraries include pastels by Christina Maggio at Ashburn Library, 43316 Hay Road, Ashburn; and photography by Kim Coughlin at Cascade Library, 21030 Whitfield Place, Potomac Falls.
Jim Hanna's photography exhibit, "North by Northwest," in Gallery 222, at 222 South King St. in Leesburg. This special exhibit, on display through Nov. 1, showcases a series of rural Loudoun scenes. Gallery 222 is open Mondays-Saturdays, from 10 a.m.-5 p.m. and by appointment. Visit www.gallery222.com or call 703-777-5498.
Photographs by Northern Virginia photographer Lillis Werder are on exhibit at Washington Dulles International Airport through December. Two series of work by the artist, "Washington, D.C. War Memorials," in honor of the upcoming Veteran's holiday, and "Venice, Italy," are on display.
The exhibit, coordinated by Gallery 222 and the Washington Metropolitan Airport Authority, is the fifth in the program's rotating series of displays. The photographs are installed in the area beyond the security checkpoints in the main terminal on the arrivals level.
Alfred McAdams' exhibit, "D.C. Metro," is on display at the George Washington Virginia Campus First Floor Gallery through Dec. 30. The First Floor Gallery is located in Building 2 on the GW Virginia Campus, 44983 Knoll Square, Ashburn. Free and open to the public. Call 703-726-3650.