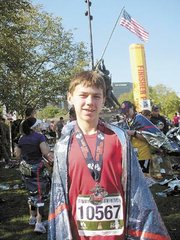 The Marine Corps Marathon turned into a much more nerve-wracking event than 14-year-old Andrew Villemarette ever anticipated — and not surprisingly it had everything to do with the 26.2-mile course he already knew he had to complete.
A few weeks before last Sunday's Marine Corps Marathon the Villemarette house received a call from race organizers to inform the family that Andrew would be the youngest participant in this year's race.
A feature in the race's official program and a segment on Comcast SportsNet followed in the days leading up to the marathon.
Then, during the actual race, Andrew said numerous runners would comment as they passed by about whether he was the youngest kid they had read about in the official program.
"I was just blown away, it didn't even occur to me," said Andrew's mom, Jo, of her son being the youngest to compete in this year's race. "It was great, he got a lot of attention because of it, but it was also tricky, too, because it put a lot of pressure to actually finish the race."
And complete the race he did, in 6 hours, eight minutes, 40 seconds to officially become the youngest person to finish this year's Marine Corps Marathon. It mattered little that the men's race winner, Andrew Drumm of Arlington, finished almost four hours ahead of him. Villemarette said crossing the finishing line was the best feeling of the day.
"It was a little harder than I expected," said Villemarette "You have the support of a lot of people, so it makes it easier."
He first decided to sign up after hearing about his father, Raymond, running the race a couple times in the late 80s. Villemarette, a Vienna resident who goes to the Commonwealth Academy in Alexandria, ran this year's race with his father.
The two trained together leading up to the event, running between 30 minutes and an hour every weekday and completing one long run on the weekend. Andrew said the two averaged about 20 miles a week.
The younger Villemarette isn't sure if he'll run the marathon again next year. He's still too sore to even think about it.
"Your feet hurt, your legs hurt, your back hurts, your whole body hurts," said Villemarette. "But I hope to run it again."
At just 15 next October, he may be able to repeat the very feat he accomplished last Sunday