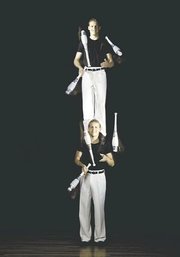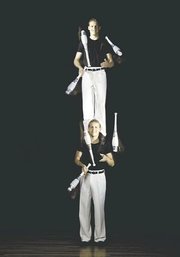 The one-ring Big Apple Circus returns to Dulles Town Center Sept. 25 through Oct. 13 to launch its new tour — Play On! — a new music box of a show including a circus symphony of astonishing acts and laughter, propelled by a jazzy mix of classical, soul, and rock and roll from the best circus band in the land.
Kicking off an 11–month, 10–city tour, the world premiere of Play On! will be presented under the air–conditioned big top at Dulles Town Center in Sterling, at the intersection of routes 7 and 28.
There are acrobatic Chinese ballerinas, pirouetting on top of their partner; Brazilians on the flying trapeze; juggling twins from America; Russians springing skyward from their Russian barre; the world's fastest fashion show from Armenia; a talented troupe of Italian dogs; and the exploits of Big Apple Circus company members vaulting onto galloping horses.
Artistic and creative directors Paul Binder and Michael Christensen have gathered a cast of performers who bring thrills and delight from eight countries around the globe. No seat under the big top is more than 50 feet from the ring.
Tickets range from $18 to $52 and are available by calling 703-828-9014 or 888-541-3750 or online at bigapplecircus.org. For group ticket sales, call 877-407-8497. The circus box office, located in front of the big top at Dulles Town Center, will open Wednesday, Sept. 22. Hours of operation will be Saturday, Sunday and Monday, from 10 a.m.-6 p.m., and Tuesday-Friday, from 10 a.m.-to 8 p.m. For wheelchair accessible seating or for information, call the ticket info line at 800-922-3772. Visit the Web site at www.bigapplecircus.org.