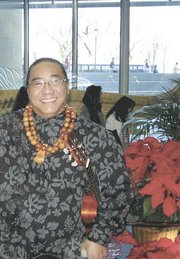 A native of Hololulu, Hawaii, Manu Ikaika (aka Manulele) is a composer and choreographer of Hawaiian music and dance, an artisan of Hawaiian crafts and an accomplished musician. He will be leading a charity luau for Hope United Church of Christ on Old Telegraph Road, Saturday, Sept. 13, from 4 to 9 p.m. Advance purchase tickets are $35 for adults; $20 for children 6 to 12. Children age five and under are free. Tickets are $40 for adults and $25 for children the day of the event. For more information, call 703-960-8772.
<b>Tell me about your upcoming luau.</b>
It's a fundraiser for Hope United Church of Christ in Alexandria. Hawaiian culture has been here for over 25 years, so the church is quite familiar with Hawaiian culture. The caterer is from Hawaii, and she does quite a bit of Hawaiian catering in the area for the Smithsonian and congressional committees.
<b>If people come to the luau, what kind of things can they expect to see?</b>
We'll have lots of different children's activities as well as arts and crafts. In the evening, we'll be putting on a traditional Hawaiian performance. It's more or less a Hawaiian Polynesian performance. Before the performance starts we'll have a traditional Hawaiian Imu ceremony where the pig is cooked underground. We'll retrieve the pig from the ground and people can see how pig was cooked in the ancient days.
<b>How did you get into this line of work?</b>
At the age of 3, when I was young, I went to luau with my dad and got interested in what I saw. I've been doing this ever since.
<b>What do you like about it?</b>
I like the stories that the dances tell. It's about how people receive it when they see the performances. It's the telling of the stories and the smiles you see — the happy feeling, you know? I guess I would say more or less the expression of aloha.
<b>How long have you been doing this in Alexandria?</b>
Since 1986. There is a large group of Hawaiian and Polynesian people who live on the East Coast. As a matter of a fact, we'll be performing later this month in Maryland. Se we stay busy.
<b>What kind of dances can people expect to see at the luau?</b>
They are going to see ancient Hawaiian dances. Those are the dances that were before the missionaries came to Hawaii, and they are done without any musical instruments other than a gourd for keeping the rhythm and Hawaiian chants to tell the story. It'll be narrated so the audience will understand what's happening. Then we'll move into the more modern hula that people are more familiar with today. And, of course, we'll have lots of audience participation.