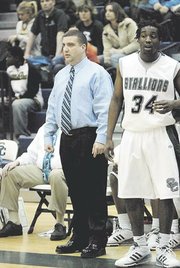 During South County Secondary School's inception in 2005, Mike Pflugrath was one of the original teachers to help open the school. Moreover, Pflugrath, who began his teaching career at W.T. Woodson High School, had served as the head boys' basketball coach at South County for the past three seasons.
Now, after former Director of Student Activities Robert McKeag took the same position at T.C. Williams, Pflugrath is adding another accomplishment to his resume at the Lorton school.
South County announced on Monday that Pflugrath will become its new Director of Student Activities, effective immediately.
"I think I wanted to jump over the desk," said Pflugrath, referencing his reaction to when Principal Jane Lipp offered him the job. "I felt like a little kid for second I was so excited. I wanted to remain professional, of course, but it's just one of those things I wanted for so long."
In addition to his teaching duties, Pflugrath also served as the Assistant Director of Student Activities from 2005-08. In that position, Pflugrath supervised student activity transportation and acted as a liaison with the student body's governing organization.
In the classroom, Pflugrath teaches AP government and serves as the government team leader. Pflugrath completed his undergraduate work at James Madison University and obtained a master's degree from George Mason University.
But Pflugrath, who had the head coaching job at Woodson for six years before spending the past three at South County, will be unable to coach basketball — something that he'll certainly miss.
"That was very difficult," said Pflugrath, who has a 115-87 career coaching record. "That's the special part of coaching for me … the relationships that you build with the players. But I'm confident we'll find somebody good, and I'll do everything I can to find the best person for that job because I do care about those kids."