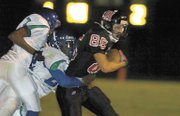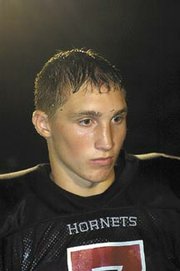 It is not often that high school football teams receive pep talks from the opposing team's head coach following games. But that was the case last Friday night following Herndon High's 27-6 win over visiting South Lakes at the annual Baron Cameron Bowl game.
Moments following the cross-town rival contest, both teams gathered at midfield for brief ceremonies. There, the winning Hornets were presented with the showcase bowl trophy, given to the game's yearly winner. Herndon, by winning on Friday, earned the right to retain the prized possession for at least another year.
It was during the postgame ceremonies that both of the game's head coaches addressed the opposing team members. Herndon coach Joe Sheaffer, whose Hornets improved to 2-0 with the early season win, encouraged the South Lakes players to continue to work hard. He told the 0-2 Seahawks he was impressed with their offensive game plan, which is geared more towards the running game after having been more of an aerial attack in recent seasons. Sheaffer also mentioned to the South Lakes squad how impressed he was with how hard the Seahawks played throughout the game.
South Lakes coach John Ellenberger, meanwhile, told the Herndon team it had played a solid all-around game.
<b>THE RIVALRY</b> between the two teams is, in fact, a friendly one. But it is also one in which both programs give their all in hopes of garnering a victory. For much of Friday night's game, the contest was a close one as the home team Hornets held just a 13-6 lead after three quarters. But Herndon broke the game open in the fourth quarter with two touchdowns, both coming on runs from Austin Moore (9 and 6 yards, respectively).
Herndon's large, enthusiastic crowd cheered the Hornets on loudly throughout the night. South Lakes' visiting fans, also large in number, gave their players a morale boost as well with their strong backing.
The Hornets were thrilled to come out on top.
"It's a pride thing," said Sheaffer. "We really still look at this game as a good rivalry. We have lots of respect for those guys. They played their [tails] off."
Herndon junior quarterback Zack Ozycz, who completed eight-of-14 passes for 75 yards, two TDs and an interception, said he enjoys going up against the Seahawks from Reston.
"South Lakes has always been a fun game for us," said Ozycz, who threw a first quarter 12-yard scoring strike to Nick Impellizzeri (5 catches, 47 yards), and a four yard touchdown toss to Jake Stewart in the second quarter. "We love to play those guys."
The signal caller, a part-time starter last year as a sophomore, said the Hornets are playing as a team early on this autumn.
"We're all coming together," he said. "When I make a mistake, my [offensive] line is there to back me up."
<b>ELLENBERGER SAID</b> the game with Herndon has often been a lopsided affair in past years. But he was pleased with the way his team kept the game close much of the way last week.
"There have not been many years at halftime where the score was only 13-6," said Ellenberger. "I've been in games [with Herndon] where it was 40-0. Our guys played well tonight."
One downer for South Lakes came when sophomore running back Ja'Juan Jones (15 carries, 77 yards, 1 TD) suffered a separated shoulder in the third quarter. Jones, the week before, had rushed for close to 200 yards in a loss to Heritage.
"That took the wind right out of our sails," said Ellenberger, of the injury to Jones.
Herndon rushed for 227 yards against South Lakes. The Hornets' top ball carriers were Zach Leach (69 yards) and Moore (63).
Herndon plays at Langley this Friday night, while South Lakes will be at Falls Church.