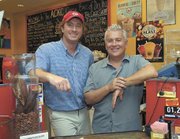 <i>Keeping Shop is a regular feature of the Gazette Packet. To qualify, retail shops should be locally owned or operated; new, expanding, celebrating a significant anniversary or doing something otherwise newsworthy. To nominate your business or another business, contact Mary Ann Weber, editor, Gazette Packet,<a href=mailto: maweber@connectionnewspapers.com>, maweber@connectionnewspapers.com</a>.</i>
<b>Owner(s):</b>
Eric Nelson and Rob Kingsbury
<b>Short bio:</b>
<b>For Eric:</b>
Eric Nelson was born in New York City, but has lived in the Washington area for more than 30 years. Eric has a bachelors and masters in Economics. For most of his adult life, Eric was a professional in the telecommunications industry where he ended his career as the vice president of a telecommunications trade association. When Eric was in his mid forties he decided he needed to spend some portion of the rest of his life pursing his passion of becoming an artist. For several years he placed his works in galleries, but ultimately decided to create his own venue to show his work. His first venture was Artfully Chocolate. After that business had been opened for about a year and a half, he and Rob Kingsbury decided to bring their businesses together and to create a local chain of stores dedicated to fine art and fine chocolates. Their first location was in D.C. at 1529c 14th Street and the new location in Del Ray is their second store.
<b>For Rob:</b>
Born and raised in the beautiful state of Vermont, Rob learned the value of wonderful food as an important part of bringing the family together and building long-lasting traditions. His great-grandparents ran a Maple Sugar Farm in New Hampshire where 150 acres of Sugar Maples were tapped to make Maple Syrup and Maple Candies. This family tradition was passed down to his grandfather - Fay Kingsbury, who passed it on to him. His grandmother, Claire, owned and operated her own 'breakfast & lunch' cafe in Springfield, Vermont - the same town where Rob (as well as his parents) were born. Spending much time throughout each year of his youth with his grandparents, Rob learned the culinary importance of fresh ingredients and patience to create memorable and mouth-watering confections. Rob graduated with an MIS degree and worked 5 years in 'corporate' America before taking a chance to create his own career in the fascinating and delicious world of chocolate. If you want a taste of his family roots, try his grandparents recipe for maple caramel popcorn - salty popcorn tossed in caramel made from maple syrup and drizzled in chocolate.
<b>Why did you choose this particular business?</b>
For Eric, see above.
For Rob: It's in my blood.
<b>Why did you choose to work for yourself rather than as an employee for someone else?</b>
For Eric, see above.
For Rob: The challenge to be self-sufficient and continue family tradition.
<b>What have you learned from being in business?</b>
For Eric: I have learned the virtue of patience. I have never been a very patient man. As a new business owner, it is very very, important to be patient. I have also learned to rely on my instincts and to have faith in myself, in my business partner, in my business plans and in the universe.
For Rob: That it takes perseverance & patience in every aspect of your business to make it successful. (And 3 times as much money as you think!)
<b>Share an anecdote of a challenging or humorous experience or biggest surprise learned from working your business:</b>
For Eric: One of the most challenging things that I have discovered from owning my business is how difficult it is to hire and retain good employees. I never dreamed how stressful it would be to find good employees. In the trade association business, I had many people working for me, but the turnover was rather low. In the retail business, it is very high. It has been a true challenge.
For Rob: That chocolate is surrounded by happy customers - whether they are treating themselves or someone else - they are doing it because it is a gift that brightens everyone's day.
<b>What have been the advantages and/or disadvantages of operating a business in Alexandria?</b>
For Eric: I love Alexandria. I live in Alexandria and I really appreciate the history and beauty of the city. I particularly love Del Ray. It has such a home-town feeling. I have gotten to meet many many, new friends in Del Ray. That is not to say it is easy to have a business in Del Ray. There are many hurdles to go through as a business owner. There is very often a tension between the needs of small businesses and the concerns of some property owners who do not necessarily want to have businesses in their neighborhood. The city government tries to balance those (sometimes) competing interests and often the businesses get the short end of the stick.
For Rob: The positive spirit and support of the community. This dream would not be able to continue everyday without the amazing customers who provide the financial support and friendship necessary to keep the independent small business alive in Alexandria.
<b>Key staff:</b>
Bil Todd and Lori Andrews
<b>Description of services and/or products:</b>
ACKC (Artfully Chocolate/Kingsbury Confections) is a business dedicated to the promotion of fine chocolate and fine art. Our businesses are part art gallery, part chocolate retail, part cocoa bar, part coffee shop, and part chocolate production kitchen.
<b>Professional affiliations/associations:</b>
Alexandria Chamber of Commerce, Del Ray Business Association, Midcity Business Association.