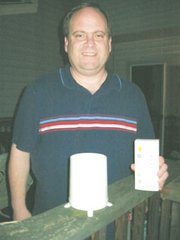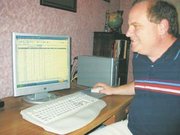 Thomas Jefferson did it. Benjamin Franklin did it. George Washington did it. And with hurricanes Gustav, Hanna and Ike, there's one meteorologist doing it here locally.
Scott Randall, 50, of Centreville, is a trained weather observer and life-long weather hobbyist who monitors the skies. Using his Skywarn Observer call number is FXW106, as a weather spotter, he reports data to the National Weather Service in Sterling and provides reports to meteorologists.
"This is a solitary thing that I get pleasure out of. It belongs to me. This is sort of like my escape," Randall said.
The role of the 2,000 local weather spotters is to be the eyes of the National Weather Service. When he spots, say a funnel cloud or a tornado, he calls or e-mails data to the Skywarn Observer program. They verify it with their radar and then issue warnings.
Because the metropolitan area is so vast in size, "It could rain 2 inches here in Centreville, and in Chantilly it could be dry," he said. "At Reagan National Airport, it could be 38 degrees and here you could have ice."
RANDALL ALSO sends temperature and precipitation data to Brian Smith of Oxon Hill, Md., an editor of the Washington Baltimore Climate Review Network, once a month. "He's reliable. The data appears to be quite useful for that part of the network area," said Smith, who does a monthly summary of the information.
In his back yard, he has a lightning detection system, an electronic rain gauge, an annimometer that measures wind speed, several different thermometers and wireless transmitting thermometers as backups. Upstairs, he has his own weather station. He enjoys the scientific aspect of being able to measure things precisely. "If it rains an inch, it's an inch. There's no debate."
Using computer spread sheets, Randall keeps track of highs and lows in temperature and precipitation. "You're kind of giving a ground verification, a validation," he said. He sends data to the Cooperative Weather Observer, which keeps track of it. This data is also used by insurance companies, for example, when a hail storm causes damage to cars and homes. They want to see the evidence of the storm.
One time Randall was in Glory Days Grille and saw a tornado on television with two funnels heading toward Centreville. He spotted it and called it in. Another time he noticed ice on his way home from work. The temperature had shot down to 24 degrees, so he called in the half-inch of ice accumulation and they issued an ice storm warning.
Overall, he characterizes Centreville's weather as docile compared to other parts of the country. The average temperature here is 56 degrees. "It's fairly hot in the summer and the winters are pretty mild," he said. "Occasionally we get some heavy snows."
"Weather's pretty consistent here. It always snows the ninth or 10th of December around here."
He follows local television meteorologists like Topper Shutt, Doug Hill, Bob Ryan and Sue Palka and sends them data as well.
"He's a great guy to have when we have severe weather," Topper Shutt, chief meteorologist at Channel 9, said. "That's when we like another pair of eyes."
He adds, "His stuff's reliable. I'm always pretty confident what he tells me is correct."
AS FAR AS accuracy, Randall says forecasters can be accurate up to 48 hours. After that, their predictions are 50-50. He said Tom Skilling, a meteorologist at WGN-TV in Chicago, is great, but his favorite is Joe Bastardi from Acuweather, based out of Penn State University. "He's really a maverick," because he does long-range forecasting and modeling. For the best Web site, he prefers www.accuweather.com.
As a child growing up in Toledo, Ohio, he collected hail stones at age 5, freezing and later eating them. The power of severe storms used to fascinate him; he remembers one particular storm on the Fourth of July that produced 20 inches of rain and 80-mph winds. "We had no power for three days," he said.
Randall started collecting weather data on his own and he's tracked it for 45 years since. To prove this, he pointed out that on Nov. 23, 1989, this area had 5.2 inches of snow, with snow on both Thanksgiving and Christmas that year.
He studied sociology at Bolling Green State University, went into the Air Force in Austin for four years and got a master's degree in counseling. Today he works in mental health for Fairfax County.
From that perspective, he said he's interested in how the weather relates to people — how there's less crime when it's cold or when pressure drops, how that causes people to get nervous and anxious.
His neighbor on Waterflow Court, Nancy Musick, said Randall hooked her up with a rain gauge and thermometer on her back fence. "I use him a source," she said. "There was a tornado warning a month ago, and he was outside looking at that funnel-shaped cloud and he's running around the neighborhood telling everybody to get into the house."
She added, "He cares about his neighbors."