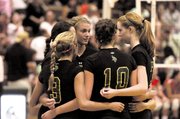 The Langley High girls' volleyball team graduated seven players from last year's Northern Region championship squad that went all the way to the Virginia State AAA finals. But the Saxons, despite the numerous losses to graduation, still have lots of talented players on this year's roster.
<b>LANGLEY COACH</b> Susan Shifflett said it might take a while before this year's younger, less experienced varsity squad comes into its own. But once the Saxons do get more experience playing together and gain a better comfort level as the season moves on, she believes her squad will be a cohesive unit with good potential.
"We have a lot of work to do," said Shifflett. "We're young, but they are very talented individuals. They need to learn my system. It will take half a season [to come around]."
Following its first six matches, Langley was a steady 4-2. The Saxons had a good showing at the recent 40-team Showcase Tournament at the Convention Center in Richmond Aug. 29-30. There, they competed in the second division field of teams where they won three of their four matches. They opened with a victory over Douglas Freedom High (Richmond), and then defeated a Lynchburg area school in their next match. Langley lost its third match to First Colonial (Virginia Beach) in five games before wrapping up its trip with a win over Ocean Lakes, another Virginia Beach team.
The large tournament field in Richmond consisted of such teams as Deep Run (Glen Allen), Princess Anne (Virginia Beach) and Cox (Virginia Beach). At last year's state finals, Langley fell to Deep Run.
With all of the vast talent of teams in Richmond, it was an outstanding opportunity for Langley to go up against some top-notch competition before the start of the upcoming Liberty District schedule.
"It had the best teams in the state," said Shifflett, of the early season tournament. "They were all there."
Shifflett said teams were seeded at the tournament based on last year's success and this year's returning experience. Overall, Langley went into the tourney seeded 20th overall of the 40 teams.
Key returning players for Langley this season include seniors Logan Sebastian (outside hitter) and Mattie Gray (opposite).
Both are serving as Saxon co-captains this season. Also, talented players such as junior setter Elysse Richardson, sophomore Audrey Dotson, a standout player in the middle, and Kathryn Caine are back in the line-up.
Sebastian, who is tabbed to play the sport at the University of Delaware next school year, earned First Team All-District honors for the Saxons in 2007. Richardson, meanwhile, was a Second Team selection.
<b>THERE IS A NATURAL</b> pressure for this year's Langley team to succeed after the success the Saxons had a year ago when they defeated Chantilly in the region finals.
"I think they realize there is a lot of pressure this year because of how well we did [last year]," said Shifflett. "But we're feeding off last year's success. "
The Langley program has been among the best in the region for numerous years. The Saxons have qualified for regionals nine of the past 10 years. And Langley has qualified for state tournaments in both 1999 and last year.
In a match on Sept. 2, Langley opened its region schedule with a loss to visiting Herndon in four games (25-27, 25-20, 27-29 and 20-25). Herndon (7-0 record), a member of the Concorde District, is considered one of the better teams in the region this season. Last weekend, the Hornets took first place in their own eight-team Sixth Annual Herndon Invitational.
"Herndon is kind of all around solid," said Shifflett. "They don't have any real stars, but they play well all around. They are scrappy and play good defense."
Herndon coach Pat Smith said beating the defending region champion Saxons was a feather in her team's cap.
"It was very exciting and very gratifying to beat a team that had done so well against us in recent years," said Smith. "I think they're a very strong team. I think they missed a few more [chances] than we did and that's what matches come down to."
Two days following its loss to Herndon, the Saxons defeated Jefferson High in another home match.
This Saturday, Langley's varsity, JV and freshmen teams will travel to Douglas Freeman High in Richmond to take on the Rebels.