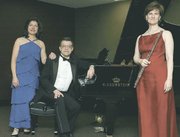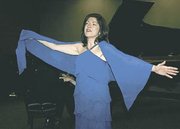 Denise Freeland is founder, artistic director and vocalist for Eco Voce, an Alexandria-based ensemble that combines environmentalism with its music. As the trio celebrates its 10th anniversary, Freeland reflected on the group's accomplishments and its goals for the years to come. For more information visit <a href=http://www.ecovoce.org>www.ecovoce.org</a>.
<b>Introduce Eco Voce and its members.</b>
EcoVoce is a trio of musicians with a passion for music and ecology. The ensemble of soprano, flute, and piano is acclaimed at home and internationally for its innovative vocal concerts combining the theme of nature with music, woven together with creative commentary about the environment. The "Eco" part of our name comes from the word ecology and the "Voce" part is the Italian word for voice. Our name reflects a commitment to serving as a musical voice for ecology. EcoVoce performers include flutist, Susan Hayes: pianist Narciso Solero; and I sing soprano. We are all professional musicians.
<b>How would you describe your music and message?</b>
EcoVoce's specialty is classical music with a nature theme. We are known for performing new and mostly American music. We choose pieces that are first very beautiful but also communicate an ecological message through the lyrics. Audiences of all ages can rediscover the wonders of nature through our concert programs. In addition to our concert programs for all audiences, we also offer outreach concerts for schools and nature centers, which include hands-on participation to help strengthen students' understanding of our natural environment.
<b>How did you begin working on this project? What continues to inspire you?</b>
EcoVoce was created in 1998 out of a passion for music and its ability to stir the human heart along with respect and love for the natural world around us that was being compromised. As musicians, we believed that the power of music could help raise environmental awareness in an uplifting way, inspiring new attitudes about nature. Our tenth anniversary theme throughout 2008 is "Another Way to Be." The idea here is that there is another way to look at the natural world around us and to live more in balance with nature. We hope our music and concert experience takes audiences beyond ecological awareness to that of being good stewards of our planet.
<b>Are there other similar groups out there right now?</b>
EcoVoce's music is unique. Some pieces are composed by local composers just for EcoVoce. We offer beautiful music you won't hear elsewhere. And as far as I know, there is no other musical ensemble combining music and nature.
<b>What venues and events has Eco Voce played?</b>
EcoVoce has performed in diverse venues from concert halls such as George Washington University (Washington, D.C.) and the Chautauqua Institution (N.Y.) to the Ford Nature Center (Alexandria) and area schools.
<b>What is your most memorable moment with the group?</b>
EcoVoce was honored to perform a concert at the 2007 International Assisi Music Festival in Assisi, Italy. It was a wonderful venue for an international audience to hear some new American musical works performed within the global theme of nature.
<b> The word "green" is everywhere these days. How does music (Eco Voce's in particular) fit in to the larger environmental movement?</b>
We are a music ensemble and not an environmental group. It's just that our music specialty is focused on music about nature and the earth. We hope that the expressive powers of our music move people to do one thing to help make a difference on the planet whether it be recycling or planting a butterfly garden.
<b> What can audience members expect from your 10th Anniversary Concert?</b>
Our tenth anniversary concert is very special to us. We have shared our music with a diverse audience in over sixty concert programs during this time. We will perform the world premiere of a piece composed by Winifred Hyson especially for this occasion. It is entitled "Another way to Be" and is based on a poem "High Desert" by Ursula K. Le Guin. The composer will be at Sunday's concert. The concert also includes a clever adaptation of an aria from Verdi's opera "La Traviata. New words have been inserted to create a humorous anti-litter aria. (This is timely as the National Opera is currently performing "La Traviata.") But perhaps the most significant part of our tenth anniversary concert is that it comes at a time when Alexandria has committed to becoming an Eco City. Vice Mayor Del Pepper will introduce Sunday's concert, explaining Alexandria's Eco City initiatives and the role the arts play in impacting people.
<b>Ultimately, what do you want to accomplish with your music?</b>
We hope that an EcoVoce concert experience is entertaining and insightful, and that audiences are moved and inspired by our unique songs about birds, a butterfly, animals, landscapes, and how nature inspires our hearts and minds.