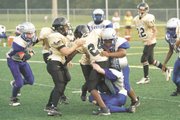 Reston Seahawk teams won seven of their 11 games in contests played throughout Northern Virginia. Four of Reston's wins came in the inaugural home games on the new lighted turf field at Lake Fairfax. FCYFL includes more than 375 teams, 7,200 players, and 1,100 coaches for 24 clubs. Next weekend's schedule can be found at RestonSeahawks.org.
<b>The following</b> is a recap of last week's Reston Seahawks' action:
<b>95-pound American</b>: Reston 34, Dulles South 0
The Reston 95-pound American team got off to an impressive start, defeating Dulles South 34-0, in a great team effort with the full squad contributing. Akram Gibreel earned offensive player of the game honors for his aggressive running, scoring one rushing touchdown and returning a kick-off for another touchdown. R.J. Lee, Marques Johnson and Devonte Johnson also scored for Reston, running behind the powerful offensive line of David Webb (left tackle), Conor Mcbride (left guard), Josh Forest (center), Seth Ravenstahl (right guard) and Josh Height (right tackle). RYA played a punishing brand of defense, holding Dulles South without a first down and recording a safety. The defensive line, including Sam Joslyn, Ravenstahl, David Kerns, and Daniel Bukari, applied relentless pressure to the Dulles QB, with each recording a sack. Middle linebacker Alex Woodward earned defensive player of the game recognition for his punishing tackles. He forced a fumble and had an interception as well.
<b>125-pound Central</b>: Reston Seahawks 14, Herndon Hornets 12
In what had to be one of the most thrilling victories to open the RYA season, Don Stoke's 125-pound Central team defeated their cross town rivals Herndon at the Hornets' home field Saturday night, 14-12. The Hornets stung first, but Reston came back to score near the end of the first half with a powerful run by Kyle Savage. Magdi Abdalla kicked a two-point conversion, giving the senior Seahawks the edge, 8-6. Reston's punishing run offense in the first half set the stage for a bruising second half for the home team.
The beginning of the third quarter saw the Reston defense adjust to Herndon's outside speed and the Seahawks began to methodically wear Herndon down with bruising defensive pressure. That bruising pressure combined with slick running by Robbie Walker on the outside and Savage on the inside began to take its toll on the Hornets. Herndon was not ready to relinquish victory on their home field so easily and injected drama into the events with an interception and return for a touchdown on a brilliant read of a Reston pass to the flat. Coach Stokes gathered his troops and with his assistant coaches engineered a classic ball control drive, featuring a combination of inside and outside running, leading to Robbie Walker's power dance into the end zone.
The Seahawks missed the conversion but sealed the victory with an interception by the intrepid Mr. Walker. None of the TDs would have happened without great blocking in the front by Sam Evans, Joseph LeSage, Roger Lambert, Brandon Carelock, and Luke Slover. Notable defensive players were: DeAndre Thomas, Jeffrey Agee, and Zac Parker. At the end Magdi Abdalla's extra point kick was the difference in the game.
<b>Anklebiters Div 2</b>: RYA 6, Springfield 0
The Reston Seahawks Div. 3 Anklebiter team coached by Mike Holmes, scored a close victory over Springfield last Saturday, 6-0. Powered by Spenser Alston, who galloped 60 yards to break a scoreless tie in the first series of the second half, the diminutive Seahawks used a suffocating defense anchored by Ken Morningstar, Cody Wright-Grant and Alex Stoffel.
Offensively, Reston established ball control, using Christopher Penn, Cameron Savage, Stephen Jackson and Christopher Ezidema to secure the win.
<b>Anklebiters Div. 1</b>: Springfield Spartans 32, RYA 18
The Seahawk Anklebiters opened the season with a tough loss to the Spartans of Springfield. Reston could not overcome the four kick-off returns that were fumbled away. Damon "Zig-Zag" Johnson scored three touchdowns and rushed for over 120 yards. The Seahawks were about to score again before time ran out. Farrell Thompson ran the ball well for the Seahawks and Hayden Loussedes did a great job as a first time QB. The defense played well with some hard hits from Jacob Anikow, Andre Johnson, Shane Martel and Justo Esteve. The Seahawks will look to improve their kick receiving game as they face off against Chantilly next week.
95- pound National: RYA 26 - Herndon 0
The Reston Seahawks 95 Nationals opened up their season with a convincing 26-0 victory against an undermanned but determined Herndon squad. The Seahawks took an early 8-0 lead with a first quarter TD by Sam Dawson and the ensuing two-point conversion by Claivon Brown. The Reston defense kept the Hornets bottled up with hard hitting pursuit. The middle was anchored by Shiva Ambardar, and Mike Carswell, while the outside was shut down by Matt Carrero, Joe Curran, Brandon Walters and Andre Davis.
The Seahawks' ground game was too much for the Hornets. With Derek Parker and Sam Dawson running behind the solid blocking of Sean Rodgers and Christophe Simpson, they took a 20-0 lead into the half. Another long run by Sam Dawson closed out the scoring in the second half as the defense took over the rest of the game. Next week the Seahawks travel to Fort Belvoir to play a tough Bulldog team, also coming off a big opening day victory.
<b>Additional scores</b> from week 1:
Anklebiters: RYA (Team 3) 26, Springfield Spartans (Team 5) 0
75 National: RYA 25, Dulles South Eagles 7
75 American: Springfield Blitz 14, RYA 6
85 National: RYA 12, Ft. Hunt Federals 6
85 Central: Vienna Raiders 28, RYA 0
110 Central: Bucknell Tigers 24, RYA 0